When the Wolves Bite: Two Billionaires, One Company, and an Epic Wall Street Battle (Hardcover)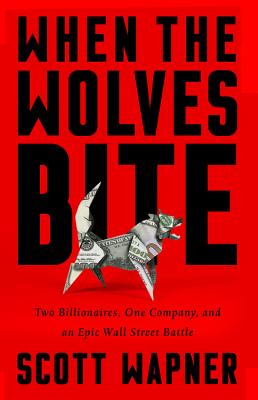 $28.00

Usually arrives at our store within 4-7 days
Description
---
The inside story of the clash of two of Wall Street's biggest, richest, toughest, most aggressive players -- Carl Icahn and Bill Ackman -- and Herbalife, the company caught in the middle

With their billions of dollars and their business savvy, activist investors Carl Icahn and Bill Ackman have the ability to move markets with the flick of a wrist. But what happens when they run into the one thing in business they can't control: each other?

This fast-paced book tells the story of the clash of these two titans over Herbalife, a nutritional supplement company whose business model Ackman questioned. Icahn decided to vouch for them, and the dispute became a years-long feud, complete with secret backroom deals, public accusations, billions of dollars in stock trades, and one dramatic insult war on live television. Wapner, who hosted that memorable TV show, has gained unprecedented access to all the players and unravels this remarkable war of egos, showing the extreme measures the participants were willing to take.

When the Wolves Bite is both a rollicking, entertaining read--a great business story of money and power and pride.
About the Author
---
Scott Wapner is the host of Fast Money: Halftime Report, which airs every weekday on CNBC. Wapner has also reported several documentaries for the network, including Ultimate Fighting: From Blood Sport to Big Time, which earned him an Emmy nomination, and One Nation, Overweight, for which he received an award from the Society of American Business Editors and Writers as well as a Sigma Delta Chi Award from the Society of Professional Journalists. Known industry-wide as an expert in the area of activism and markets, Wapner has reported live from the floor of the New York Stock Exchange and is in regular contact with all the personalities in When the Wolves Bite. He lives in New Jersey.
Praise For…
---
"Told in a
breathless, urgent style, this is a trenchant business drama that brings life
to its characters and will mostly appeal to business buffs."—Publishers Weekly

"When the Wolves Bite is the thrilling story of an epic battle between two business titans. Nobody can tell it like Scott Wapner does, because nobody knows activist investors better than he does. If you want to know what makes billionaires go to war, you must read this book!"—Jim Cramer, host of MadMoney

"When the Wolves Bite completely changed the way I think about activist investors. A fantastic read from a man who keeps these titans of business honest on his show every day."—Kevin O'Leary, SharkTank investor and chairman of O'Shares ETFs

"It's never about
money. It's always about ego. This book is a telling examination of the
psychology of billionaires trying to one-up each other."—Andrew Ross Sorkin, NewYork Times bestselling author of Too Big to Fail

"When the Wolves Bite reads like an action film with multiple combatants, but the story is told from a neutral corner, capturing all the nuance, drama, and importance of a giant battle. Scott Wapner provides great insights for all into a very complex world."—MichaelOvitz, cofounder of CAA