Dragon Songs: Love and Adventure among Crocodiles, Alligators, and Other Dinosaur Relations (Hardcover)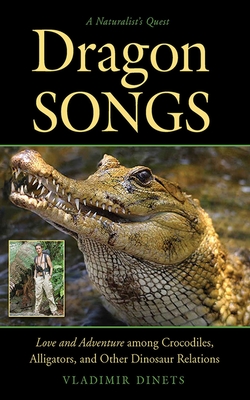 Description
---
A born naturalist and a fearless traveler, Vladimir Dinets wrote travel guides, conducted field research, and lived a couple of lives before he was accepted into the PhD program in zoology at the University of Miami. He thought crocodiles were a dead-end research topic—survivors from the age of the dinosaurs but not much else—until he witnessed groups of up to seventy alligators performing mating choruses that included infrasound vibrations—a form of communication extremely rare in nature—and a "dance" unknown in the scientific literature but that resembled a scene from Jurassic Park. To prove his thesis about the language of crocodiles, he spent the next six years traveling around the world on shoestring budgets and in extreme circumstances, studying almost every living species. At the same time, as a man desiring companionship in life, he sought love.

With adventures on five continents, Dragon Songs is his account of this quest. It includes an escape from a boiling lava lake in the Afar Desert, being chased up a tree by a tiger in India, hitching a ride with a cocaine smuggler in Bolivia, and diving with giant Greenland sharks—all in the name of studying crocodiles, among which he routinely paddled in his inflatable kayak. Of course, not everything went according to plan. But, in the end, his ground-breaking research helped change the field. And during the course of his adventures, he met and courted his future wife.
About the Author
---
Vladimir Dinets grew up in Russia and moved to USA in the late 90's. He received PhD in Zoology at the University of Miami, studying songs and dances of crocodiles and alligators. Dinets continues to study animal behavior and rare, little-known animals. He has traveled in more than a hundred countries, mostly for research, but also because he loves travel. His books about nature and travel diaries have been popular in Russia for the past twenty years, mostly in online versions, but also in print. Dinets is now making them available as Kindle editions. Dragon Songs, his first popular book in English, is now available on Amazon.
Praise For…
---
Shortlisted for Russia's Prestigious Big Book and Enlightener Prizes
Shortlisted for Russia's Prestigious Big Book and Enlightener Prizes