Goliarda Sapienza in Context: Intertextual Relationships with Italian and European Culture (Hardcover)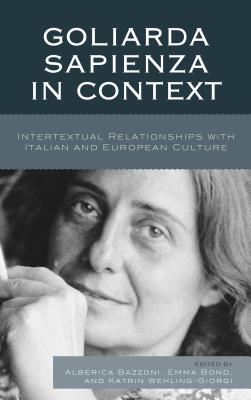 This item is not available.
Description
---
The present edited collection of essays on the Sicilian author Goliarda Sapienza includes contributions from established and emerging scholars working in the field of contemporary women's writing. Essays in this volume examine Sapienza through multiple perspectives, taking into account the articulation of subjectivity through autobiographical writing and the complex representation of gender and sexual identities. Also considered here is Sapienza's oblique position within the Italian literary canon, with contributions moving beyond isolated textual analyses whilst attempting to situate the author's works within a framework of intertextual and contextual cultural references. Exploring the fertile network of explicit and implicit intersections with Italian and European literature (English and French in particular), as well as with Western philosophical thought in which Sapienza's texts are embedded, this volume will provide an overdue contribution to the belated appraisal of an author whose due recognition is, in Cesare Garboli's words, only a matter of time: "Time will work in favour of Goliarda Sapienza's works. And this is not a wish; it is a certainty.
About the Author
---
Alberica Bazzoni is lector in Italian at the University of Oxford, UK. Emma Bond is lecturer in Italian and comparative literature at the University of St Andrews, UK. Katrin Wehling-Giorgi is lecturer in Italian at Durham University, UK.