Where's Buddha? (Hardcover)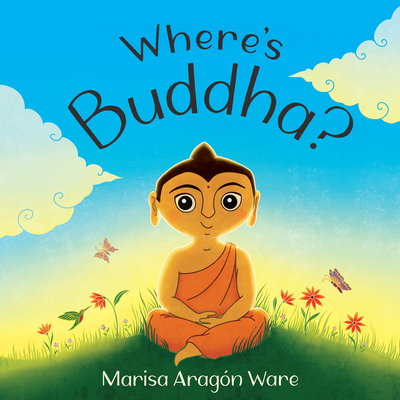 Description
---
Follow Buddha on a wild journey—
from mountain peaks
to the ocean deep,
past Saturn's rings
and butterfly wings.

This sweet story reveals that Buddha can be found everywhere you go.
About the Author
---
MARISA ARAGON WARE is a professional illustrator and tattoo artist living in Boulder, Colorado. Born and raised in Boulder, Colorado, Marisa garnered her deep appreciation of nature from a childhood spent enveloped in the forests and glades of the Rocky Mountains. Those formative experiences heavily influence both her art and outlook, and she strives to depict the beauty of the natural world to help others connect with its abundant primordial magic. Marisa attended the Academy of Art University to earn a master's degree in Traditional Illustration. She is represented by Mendola Artist Representatives. Previous clients include Disney, Gallo Wines, Shambhala Publications, Conscious Alliance, Yonder Mountain String Band, JJ Grey, The Polish Ambassador, and Ayla Nereo.
Praise For…
---
"Ware's picture-book representation of the belief that Buddha's nature is in all of creation is perfect for Buddhist families or others open to the teachings of the Buddhist faith."—Kirkus Reviews (starred review)

"Buddha smiles serenely from snowy mountain peaks, through summer monsoon rains and deep ocean waters, reassuring children of his calm, surrounding presence in every season. Vibrant artwork and rhythmic verses add an element of fun as the Buddha, in his traditional saffron robes, gazes peacefully from the portal of a submarine or through a taxi's front windshield, his hand outstretched to feel the rain or feed a giraffe, or resting still in nature and in hearts around the world."—Foreword Reviews

"My three-year-old daughter heartily approves of this new picture book. On each page, there is a cute, big-eyed Buddha, and she loves looking for him. Sometimes he's out in the open and easy to spot, but at other times he's hiding—in a submarine or rocket ship or airplane. Marisa Aragón Ware's deep appreciation for the natural world shines through on almost every page. Her illustrations are colorful and elegantly stylized, and the overall effect is magical."—Andrea Miller, Lion's Roar 

"The stretch from the cosmic back to the nearness of one's familiar surroundings brings a sense of the holy that's present in all beings, an important understanding that can never be taught too early."—Spirituality & Practice