The Life of the Buddha (Hardcover)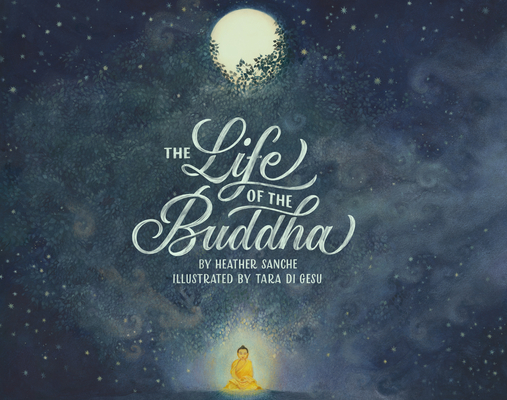 Description
---
"In the full bloom of spring, in a beautiful garden, in a place called Lumbini, a prince was born."
 
So begins the extraordinary story of the life of Siddhartha Gautama, the prince who would become the enlightened Buddha, the Awakened One. This classic tale follows Prince Siddhartha's journey of truth-seeking and discovery, including his life-altering encounters with human suffering and his realization of the Four Noble Truths. Today, millions of people all over the world follow the Buddha's teachings on meditation, selflessness, and compassion. Rendered here in exquisite original watercolor illustrations, this inspiring story is brought to life for young readers curious about one of history's most monumental and influential figures.
About the Author
---
HEATHER SANCHE is a practicing Buddhist and has more than twenty years of teaching experience in a wide variety of cultures and settings. She is a teacher at the Maria Montessori Academy in Victoria, British Columbia. 

TARA DI GESU began painting at a young age. While living in Nepal, she studied classical thangkha painting. Her paintings remain essentially faithful to this Tibetan tradition, but Tara has gently shifted the stylistic emphasis and brings a fresh, ethereal quality to her work that makes her paintings unique.
Praise For…
---
"This picture book will serve families seeking to share their own Buddhist faith and practice with children as well as independent readers researching spiritual practices. A succinct, beautifully crafted documentation of the origin of Buddhism."—Kirkus Reviews (starred review)

"In The Life of the Buddha, Tara di Gesu's enchanting illustrations make the perfect complement to Heather Sanche's illuminating words so young readers can absorb the inspiration of the Buddha's life story. I hope many children as well as big kids like me will enjoy reading it and carry the Buddha's example of love and understanding in their hearts."—Avikrita Vajra Sakya, author of Wake Up to What Matters

"We have far too few Buddhist books for children. In that regard, the negligence of Buddhist teachers like myself is utterly embarrassing. So this beautiful children's book on the life of the Buddha by Heather Sanche and Tara Di Gesu is very welcome indeed."—Dzongsar Jamyang Khyentse, author of The Guru Drinks Bourbon? and Living Is Dying

"Tara di Gesu's richly colored, detailed illustrations match the gentle, tender tone of the writing. Some of the art is worthy of printing in large wall-poster format. Heather Sanche frames Siddhartha's journey in psychological, social, and spiritual terms—a realistic approach that elides mythological elements and takes some liberties with the traditional narrative. Still, the text provides essential teachings in accessible ways that will prompt young readers to ask good questions."—Tricycle