Buddhist Magic: Divination, Healing, and Enchantment through the Ages (Paperback)
×
Warning message
Mean Menu style requires
jQuery
library version 1.7 or higher, but you have opted to provide your own library. Please ensure you have the proper version of jQuery included. (note: this is not an error)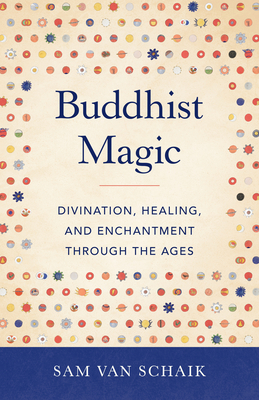 Description
---
A fascinating exploration of the role that magic has played in the history of Buddhism

As far back as we can see in the historical record, Buddhist monks and nuns have offered services including healing, divination, rain making, aggressive magic, and love magic to local clients. Studying this history, scholar Sam van Schaik concludes that magic and healing have played a key role in Buddhism's flourishing, yet they have rarely been studied in academic circles or by Western practitioners. The exclusion of magical practices and powers from most discussions of Buddhism in the modern era can be seen as part of the appropriation of Buddhism by Westerners, as well as an effect of modernization movements within Asian Buddhism. However, if we are to understand the way Buddhism has worked in the past, the way it still works now in many societies, and the way it can work in the future, we need to examine these overlooked aspects of Buddhist practice.

In Buddhist Magic, van Schaik takes a book of spells and rituals--one of the earliest that has survived--from the Silk Road site of Dunhuang as the key reference point for discussing Buddhist magic in Tibet and beyond. After situating Buddhist magic within a cross-cultural history of world magic, he discusses sources of magic in Buddhist scripture, early Buddhist rituals of protection, medicine and the spread of Buddhism, and magic users. Including material from across the vast array of Buddhist traditions, van Schaik offers readers a fascinating, nuanced view of a topic that has too long been ignored.
About the Author
---
SAM VAN SCHAIK is head of the Endangered Archives Programme at the British Library. He has previously worked for the International Dunhuang Project and has been a principal investigator on several major research projects. He is the author of many books including Tibet: A History, Tibetan Zen, The Spirit of Zen, and The Spirit of Tibetan Buddhism.
Praise For…
---
"This book is the definitive study of Buddhist magic. Surveying the varied forms of magic found in different Buddhist cultures and historical periods—from ancient Gandhara to modern Myanmar, and from spells to corpse magic—the book also compares Buddhist magical practices to those found in other religions and cultures, and it includes the first complete translation of an important Dunhuang Tibetan book of spells. Written in clear and jargon-free prose, Buddhist Magic is a major contribution to a neglected area of scholarship."— José Ignacio Cabezón, author of Sexuality in Classical South Asian Buddhism
 
"Buddhism is renowned as the religion of reason. Why, then, a book on Buddhist magic? In fact, magic has been hiding in plain sight in Buddhism from the beginning and was crucial to Buddhism's spread across Asia. In this potent little book, Sam van Schaik restores magic to its proper place in the history of Buddhism, causing us to see the tradition with new eyes."—Donald S. Lopez, coauthor of Two Buddhas Seated Side by Side: A Guide to the Lotus Sutra
 
"Buddhism is a tradition threaded through with magic, in all senses of the word. Sam van Schaik's lively, accessible, and scholarly introduction to the subject explores Tibetan spells and magical texts, revealing them as keys to understanding the rich seam of ritual practice in all Buddhist traditions. Where there are human beings, there is magical thinking: van Schaik shows us how Buddhists historically, and now, have employed this natural predisposition and transformed it as part of the alchemy of the Buddhist path."—Sarah Shaw, author of Mindfulness: Where It Comes From and What It Means

"Magic, as much as mindfulness and meditation, has played a foundational role in Buddhism from the start, both as an evocative metaphor for the empty illusion of reality and as a conventional form of authorized Buddhist practice and ritual. And yet, rarely has magic in Buddhism been acknowledged as a subject worthy of close inspection—that is until Sam van Schaik's trailblazing new book, Buddhist Magic: Divination, Healing, and Enchantment through the Ages. In this exciting and erudite study, van Schaik introduces readers to an ancient Tibetan "book of spells," one of the earliest of its kind, to answer critical questions about the meaning of Buddhist magic, its varied scriptural sources, how it was practiced and who practiced it, and the diverse cultural pathways by which Buddhist spells and magical rites were transmitted widely across Asia."—Bryan J. Cuevas, translator of The All-Pervading Melodious Drumbeat: The Life of Ra Lotsawa  

"Buddhist Magic is an intriguing exploration of the history and importance of magic in the tradition."—Foreword Reviews 

"Van Schaik proposes that, rather than being perceived as superstitious nonsense, these rituals must be viewed as fundamental to Buddhist practice in earlier times, and add invaluable insight into the lives of early Buddhists and Buddhist monks. He includes descriptions of supernatural beings, lists of herbs and spices used as spell ingredients, and the details of various rituals. He also provides a sweeping tour of old-world civilizations—including Chinese, Egyptian, Indian, and Mesopotamian—covering a variety of manuscripts found at archaeological sites containing devotional poems, chants, spells, and recipes. Van Schaik's writing style and tone are light, making this a quick, easy history for any layperson. Readers interested in the foundations of magical spiritual practice will enjoy this entertaining look at nontraditional practices that shaped early Buddhism."—Publishers Weekly

"A good introduction to the topic of Buddhist magic [that] should be on the reading list of any serious student of the Buddhist tradition."—H-Net Reviews

"In his book Buddhist Magic, van Schaik beautifully brings this to light, inviting us to set aside our prejudices and take a closer, boarder look at why it is that—while traces of European magic today may have mostly receded—Buddhist magic still thrives in places like China, Tibet, Burma, Nepal and Thailand. For not only does his translation and presentation of an exotic thousand-year-old Tibetan spell book help us appreciate an integral—yet typically overlooked—part of authentic Buddhist practice, but it also may help us appreciate the magic that has historically connected us across cultures."—The Tattooed Buddha