Fred Rogers: The Last Interview: and Other Conversations (The Last Interview Series) (Paperback)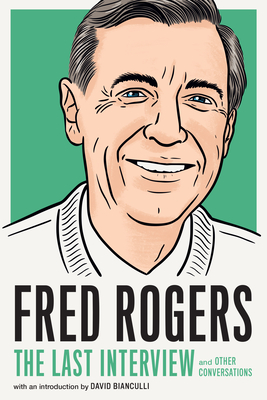 Description
---
Fred Rogers's gentle spirit and passion for children's television takes center stage in this collection of interviews spanning his nearly forty-year career

Nearly twenty years after his death, Fred Rogers remains a source of comfort and fond memories for generations who grew up watching Mister Rogers' Neighborhood. Over the course of his career, Rogers revolutionized children's television and changed the way experts thought about the educational power of media. But perhaps his most lasting legacy was demonstrating the power of simply being nice to other people. In this collection of interviews, including his fiery (for him) 1969 senate testimony that saved PBS and his final interview with Diane Rehm, Rogers's gentle spirit and compassionate approach to life continues to be an inspiration. An introduction by David Bianculli provides brilliantly contextualizes the interviews and offers a contemporary reading of Rogers's storied career.
About the Author
---
Fred Rogers (1928-2003) was the creator, showrunner, and host of the internationally acclaimed children's television show Mister Rogers' Neighborhood which ran on PBS from 1968 to 2001. His work in children's television has been widely lauded, and he received over forty honorary degrees and several awards, including the Presidential Medal of Freedom in 2002, a Lifetime Achievement Emmy in 1997, and induction into the Television Hall of Fame in 1999. Rogers was also a musician, Presbyterian minister, and the author of several books for children and adults.

David Bianculli is a television critic, columnist, and guest host on NPR's Fresh Air with Terry Gross. He is a professor of TV and film at Rowan University and founder of the website TVWorthWatching.com. Bianculli has written four books: The Platinum Age Of Television: From I Love Lucy to The Walking Dead, How TV Became Terrific (2016); Dangerously Funny: The Uncensored Story of 'The Smothers Brothers Comedy Hour (Simon & Schuster/Touchstone, 2009); Teleliteracy: Taking Television Seriously (1992); and Dictionary of Teleliteracy (1996).

Praise For…
---
"He wasn't simply entertaining children or trying to turn them into consumers. He was gentle and kind and meant to soothe the fears of kids who don't know how the world works." —Tom Hanks

"His advocacy for children was truly an advocacy for the human race." —Yo-Yo Ma

"Some people thought Mister Rogers was the biggest nerd on television. To me, he was one of the coolest men on the planet." —Whoopi Goldberg

"All my philosophies go back to Mr. Rogers—kindness, compassion, wanting the other person to be happy." —Judd Apatow