The Chants of Easter (CD-Audio)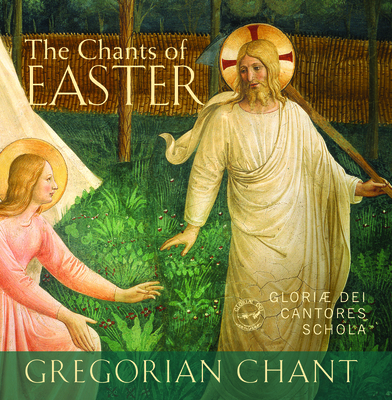 Description
---
Gregorian Chants for Easter

This recording of Gregorian Chant from the Gloriæ Dei Cantores Schola celebrates the Feast of the Resurrection, which is rooted in the earliest centuries of Christian worship. This "celebration of celebrations" is a time for rebirth, and this recording reflects that sense of personal renewal and joy. The Chants of Easter includes the Propers of Easter Day and Gregorian chants for the octave of Easter — daily services that are part of the week-long celebration of the Easter miracle. These chants are conveyed with careful attention to subtleties in the ancient Gregorian notation, inviting listeners to share the experience of Christ's resurrection in all its richness.
About the Author
---
Gloriæ Dei Cantores Schola is dedicated to the singing and study of Gregorian chant. Its expertise and experience come from daily chanting of the Liturgy of the Hours as well as the Ordinary and Proper of the Mass at the Church of the Transfiguration in Orleans, MA. The Schola also conducts chant workshops and performs in concert with Gloriæ Dei Cantores. Years of study with Dr. Mary Berry, CBE, founder of the Schola Gregoriana in Cambridge, England, and the monks of St. Peter's Abbey in Solesmes, France, also contribute to the Schola's passion for Gregorian chant as a vibrant and living form of sung prayer. Gloriæ Dei Cantores Schola has been critically acclaimed in both Europe and the United States for its proper regard for rhythmic flexibility and its sensitivity to both musical and textural phrase.
Praise For…
---
"They sing in an admirably flexible manner with beautiful diction."  —Musicweb.international  

"Not even the most seasoned monastic group delivers it better than the Gloriae Dei Cantores Schola, a group that specializes in Gregorian chant. They sing in daily services and appear often in concert with (and as part of) the Gloriae Dei Cantores. Like them, the Schola singers are renowned for their smooth sound, rhythmic flexibility, and intense sacred sentiment."
— American Record Guide  

"This disc contains what I believe are first recordings of the Gregorian Propers for Easter Day and the Octave for Easter. Spectacular stuff! Easter is, after all, the essential and most important of Christian feast days. Without Christ's resurrection, the whole belief would be meaningless. It stands to reason that one can expect some of the finest, most joyous chants set aside for Easter.
The free-flowing lyric lines are indeed other-worldly in their refined sense of suspended animation. The effect, especially when performed so well as here, tends to float the mind. The chants are so soothing, that one can not help but escape feelings of anxiety or anger. Their appeal is general. One need not be religious to be moved, for the chants are catholic as well as Catholic. Sonically, the recordingis super, and utterly free of gimmicks. The result is elegantly overpowering. Marvelous!"  —In Tune Magazine  

"The singers' experience and expertise come from daily chanting of the Benedictine Monastic Offices. This is then, 73 minutes of unaccompanied Gregorian chant expertly performed and flawlessly recorded, an hour of pleasant instruction and instructive pleasure. The booklet contains complete Latin texts with translations and valuable commentary."  —The American Organist  

"...the group [Schola] shows good grasp of the nuance of the genre, with special focus on phrase coloring and word painting."—Cross Accent