A Fierce and Subtle Poison (Paperback)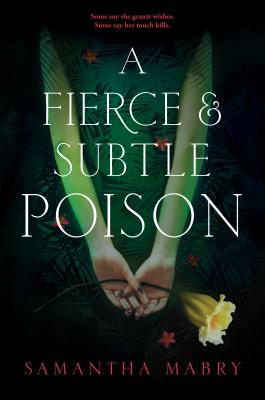 $13.99

Usually arrives at our store within 4-7 days
Description
---
Legends collide with reality when a boy is swept into the magical, dangerous world of a girl filled with poison.

Everyone knows the legends about the cursed girl—Isabel, the one the señoras whisper about. They say she has green skin and grass for hair, and she feeds on the poisonous plants that fill her family's lush Caribbean island garden. Some say she can grant wishes; some say her touch can kill. Seventeen-year-old Lucas spends summers with his hotel-developer father in Puerto Rico, and he's grown up hearing the stories. When letters from the cursed girl mysteriously appear in his room the same day his girlfriend disappears, Lucas turns to Isabel for answers—and finds himself lured into her strange and enchanted world. But the more entangled Lucas becomes with Isabel, the less certain he is of escaping with his own life.

Samantha Mabry's new book, Tigers, Not Daughters, is available now.
About the Author
---
Samantha Mabry is the author of A Fierce and Subtle Poison; All the Wind in the World, which was longlisted for a National Book Award; and Tigers, Not Daughters. In addition to writing, Samantha teaches college-level composition at Southern Methodist University and is the mother of an energetic young son. Samantha and her family divide their time between Dallas and Mineral Wells, Texas. Visit her online at samanthamabry.com.
Praise For…
---
"This is a coming-of-age story set against the mystic and the tragic, and it will likely leave a mark on readers for days." —
BCCB, starred review
"With its sparklingly sinister blend of natural history and magic, of themes that seem both modern and timeless,
A Fierce and Subtle Poison
gets under the skin."
– Chicago Tribune
"A breathtaking story in which myths come to frightening life and buried wishes might actually come true." —
Nova Ren Suma, author of The Walls Around Us and Imaginary Girls
"Samantha Mabry's magical debut is both a chilling mystery and a heartbreaking meditation on love, longing and sacrifice...
A Fierce and Subtle Poison
will get into your blood." —
Laura Ruby, author of Bone Gap
"Mabry cultivates a rich setting, offering lush descriptions of the island, its stories, and the sharp divide between the old world and the incoming new one, characterized by swift modernization and the careless destruction of history. Perfect for fans of Carlos Ruiz Zafón's atmospheric
Marina
."
—Sarah Hunter, Booklist
"[Mabry] steeps her debut novel in compelling Caribbean folklore and a lush, evocative setting... Fans of open-ended, atmospheric stories will enjoy the chilling suspense."
—Kirkus Reviews
"Inspired by Hawthorne's 'Rappaccini's Daughter,' debut author Mabry blends magical realism with mystery in the story of Lucas Knight, the 17-year-old son of a hotel developer spending his summers in San Juan. Mabry smoothly joins dreamy, fever-induced scenes with the lore of "la ciguapa," a beautiful creature that leads men to insanity or death with a kiss, and her atmospheric ending guarantees goose bumps."
—Publishers Weekly
"A Fierce and Subtle Poison is a great doorway into magical realism; it uses many of the genre's tropes in a way that feels both modern and self-aware…It's an impressive work; Mabry manages to combine a very romantic view of Puerto Rico with a critique of the poison that is sown by objectifying indigenous peoples and places. The book approaches its themes thoughtfully and with a visceral sense of place: Hurricane winds and the patter of rain against thick leaves are the driving rhythms at its heart. Readers looking for a different kind of fairytale and a sensuous setting will enjoy this foray into a strange and troubled garden." — NPR.org