We Saw Scenery: The Early Diaries of Merrill Markoe (Hardcover)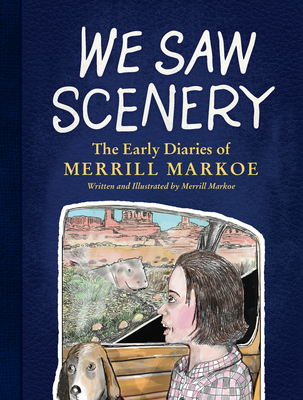 Description
---
"Merrill Markoe got all the talent. In addition to being an Emmy-award winning comedy writer, she's also a top-notch artist. We Saw Scenery is revealing, sad, funny, and, above all, relatable. Merrill captures the experience of a young woman finding—and holding onto—her own voice. And we're all lucky she did."  —Nell Scovell, author of Just the Funny Parts

In her first-ever graphic memoir, four-time Emmy-winning comedy writer Merrill Markoe unearths her treasured diaries, long kept under lock and key, to illustrate the hilarious story of her preteen and teen years and how she came to realize that her secret power was her humor. Wielding her layered and comically absurd style, Markoe takes readers back through her time as a Girl Scout, where she learned that "scouting" was really more about learning housewifery skills, to her earliest crushes on uniquely awful boys and her growing obsession with television.

Much has changed in our world since Markoe wrote in her diaries, or has it? Climate change wasn't yet a rallying call, but the growing hole in the ozone preoccupied Markoe's young mind. No one was flocking to the desert for Burning Man, but Markoe readily partook in the Ken Kesey Acid Test. As she charts the divide between her adolescence and adulthood, Markoe questions and berates her younger self, revealing how much is opaque to us in those young years.

Perfect for fans of Roz Chast, Allie Brosh, and Lynda Barry, We Saw Scenery is a laugh-out-loud story of a girl growing up, told from the perspective of the woman she became, and it will speak to all who wanted to understand themselves in the midst of their own maturing.
About the Author
---
Merrill Markoe was the head writer for the original The David Letterman Show (the live NBC morning show that was recognized with a Daytime Emmy Award) and the co-creator and first head writer of NBC's groundbreaking Late Night with David Letterman, for which she won three additional Emmy Awards. She engineered the majority of the show's original concepts and created the segments "Stupid Pet Tricks," "Stupid Human Tricks," and "Viewer Mail." Markoe also won a Writer's Guild award for her writing/performing work on HBO's Not Necessarily the News. She has written for television shows such as Sex and the City, Newhart, and Moonlighting and has written for many periodicals, including Rolling Stone, Time, US Weekly, People, Esquire, The New York Times, and The Los Angeles Times, and her cartoon work has appeared in The New Yorker. She was recently awarded the Paddy Chayevsky Laurel Award for Television Writing Achievement.
 
Praise For…
---
"[We Saw Scenery] taps into not only the challenges of a girl growing up in the 1960s, but also Markoe's special ability to use traditions and American consumerist culture as fuel for her absurdist humor."
—The Washington Post

"A graphic memoir that blends the revelations we expect from personal writing with the immediacy of a comic book . . . [Markoe's] work is most reminiscent of Bechdel's 2006 graphic memoir Fun Home." 
—David Ulin, LA Daily News

"Merrill Markoe got all the talent. In addition to being an Emmy-award winning comedy writer, she's also a top-notch artist. We Saw Scenery is revealing, sad, funny, and, above all, relatable. Merrill captures the experience of a young woman finding—and holding onto—her own voice. And we're all lucky she did."
 —Nell Scovell, author of Just the Funny Parts

"Poignant . . . The multiple Emmy Award-winning comedy writer has augmented some of her youthful jottings with drawings and snappy, bewildered and trenchant present-day observations, and the result is a marvelously oddball coming-of-age memoir with laughs and a talking hippo."
 —Shelf Awareness
 
"Markoe's bold, sometimes absurdist drawings and the often chiding conversations she imagined between her mature and adolescent selves enhance the comedy at the heart of this thought-provoking story about what happens when the wisdom of age confronts the follies and foibles of youth…A memoir that is both relatable and subversive."
 —Kirkus Reviews
 
"Comedian Markoe spins a spiky coming-of-age memoir combining commentary, comics, and diary excerpts in a scrapbook fashion. Markoe's knack for anecdotes and perfect turns of phrase is worth the price of admission. Fans of Roz Chast and Mimi Pond will want to take a look."
—Publishers Weekly
 
"Markoe's reflections and interrogation of her memories are hilarious and presented with a surrealistic flair."
 —Library Journal

"In We Saw Scenery, you'll learn that you weren't the only one who would learn, painfully, that sarcasm—via Mad Magazine—was not the best tool for seduction. You'll find out you weren't the only person who'd buy tickets for a hip event—and then want to leave early. It's gratifying to see teenage Merrill grow her armor—a subversive attitude—that will see her through, despite everything, and you just want to cheer her on. Merrill Markoe's visual and written analyses of her childhood diaries are acute, devastating, and hilarious. You should buy this book!"
—Mimi Pond, author of The Customer is Always Wrong

"Everything Merrill Markoe writes is a must-read, but We Saw Scenery is particularly essential, because besides being a hilarious, poignant and perceptive portrait of a comedy writer as a young woman, it showcases an overlooked facet of one of our most important artistic voices. Markoe has always been singularly gifted at finding oddball, deadpan humor in the idiosyncrasies of language, but what's less well known is her background as an artist. This delightful graphic memoir, rooted in her early diaries, pairs whimsical, evocative drawings with her razor sharp prose. It's an absolutely delightful marriage."
—Jason Zinoman, author of Letterman: The Last Giant of Late Night