Grafica della Strada: The Signs of Italy (Hardcover)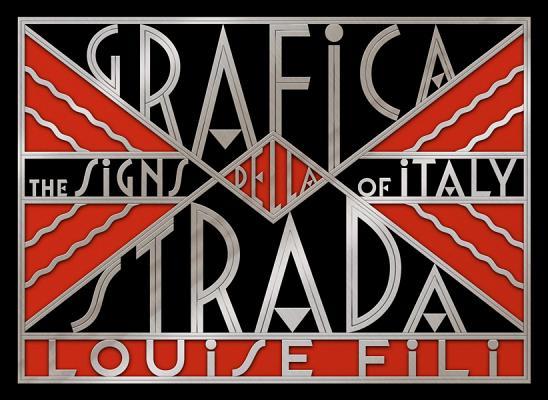 Description
---
For more than three decades, renowned graphic designer and self-described Italophile Louise Fili has traveled the cities and countryside of Italy cataloging the work of sign craftsmen in whose hands type takes on new life with a tantalizing menu of styles. Classical, eclectic, or Futurist; in gold leaf, marble, brass, wood, wrought iron, enamel, ceramic, or neon; painted, carved, inlaid, etched, tiled, or stenciled— the creative possibilities are endless. Grafica della Strada is Fili's photographic diary of hundreds of Italy's most inventive restaurant, shop, hotel, street, and advertising signs. A major influence on Fili's own work, many of these marvels of vernacular design live on solely in this book, a typographic love letter to Italy that will be an inspiration to designers and Italophiles everywhere.
About the Author
---
Louise Fili is director of Louise Fili Ltd, a New York-based design studio specializing in branding for food packaging and restaurants. Fili was art director of Pantheon Books for eleven years, where she designed close to 2000 book jackets. She is a member of the Art Directors Hall of Fame, and received the medal of lifetime achievement from the AIGA and the Type Directors Club.

Fili is the author of Elegantissima, Grafica della Strada, and Graphique de la Rue. She also co-authored and designed Italianissimo and The Cognoscenti's Guide to Florence. With her husband, the design historian Steven Heller, she is co-author of Italian Art Deco, British Modern, Dutch Moderne, Streamline, French Modern, Deco España, German Modern, Deco Type, Design Connoisseur, Counter Culture, Typology, Stylepedia, Euro Deco, Scripts, Shadow Type, Stencil Type, and Slab Serif Type. She has also designed Perfetto, Tutti Frutti, and Brillante pencils.
Praise For…
---
"Playful and bold, these signs evoke the charm and bustle of Italy's vital urban life." -Elle Décor

"A visual cornucopia of typographic signs photographed in her beloved Italy. a reminder that design skill is not only a function of what we make, but manifests, too, in what we mindfully choose to record." -Design Observer

"More than just a visual feast, the journal will ignite the senses of anyone who has traveled in the country.The book is packed with brilliant type specimens, and rather than providing in-depth context, Fili lets her photographs do the talking." -Communication Arts

"...a treasure for all-especially those seeking inspiration in typeface and art direction." - Cool Hunting

"I wish everyone could experience the magic of Italy firsthand. In the meantime, Grafica della Strada: The Signs of Italy offers a marvelous taste of the visuals I've found so captivating. Literally a photo flip-book of signs from across the country -- storefronts, road signs, street art, and more -- it captures how Italy's elevated design aesthetic plays into everyday life...We can all use a reminder that life is as beautiful as we make it."-MarthaStewart.com

"Forget the museums-the street signs are beautiful too. In Italy, even storefront lettering and advertisements contain visual gems."-Entertainment Weekly