Hider, Seeker, Secret Keeper (The Bolshoi Saga #2) (Paperback)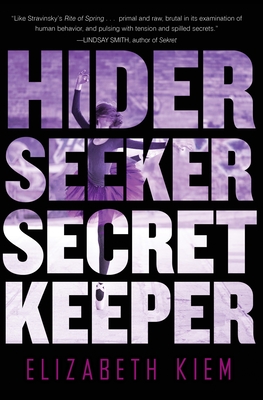 Other Books in Series
This is book number 2 in the The Bolshoi Saga series.
Description
---
The Bolshoi Saga: Lana

Lana Dukovskaya is an up and coming talent at the Bolshoi Ballet, where her mother, Marina, also danced until her career came to a mysterious end. On the eve of an international tour, Lana's best friend and chief rival is brutally attacked, making Lana both the substitute soloist and the prime suspect.

Once in New York, Lana meets Georgi Levshik, a powerful Russian émigré who claims to know the truth about her mother's past. Lana is wary, torn between curiosity and distrust. But when another young dancer is struck down just hours before her debut, Lana knows she is in danger. On the run, Lana puts her trust in Levshik's alluring bodyguard, Roma. Together they must uncover the truth about a blood feud involving three generations of Dukovskaya dancers.
About the Author
---
Elizabeth Kiem studied Russian language and literature at Columbia University and lived in Russia immediately after the collapse of the Soviet Union. Her nonfiction work can be read all over the world wide web. She is also the author of two other books in the Bolshoi Saga: Dancer, Daughter, Traitor, Spy and Orphan, Agent, Prima, Pawn. She lives in London.
Praise For…
---
Praise for Hider, Seeker, Secret Keeper

"Even though the dancers have come to New York, [in Hider, Seeker, Secret Keeper] the book is still steeped in Russian culture. This is a novel full of plot twists and turns that help uncover the lies, the betrayals, and the resentment of generations."
—VOYA

"A tangled web of intrigue ensnares three generations of Bolshoi ballerinas . . . Russian secrets, treachery and strong family ties pulsate and captivate in this complex tale."
—Kirkus Reviews

"Infused with a grim urgency, both cold and vividly alive . . . Those looking for the thrill of a wrongly accused heroine, infused with the passion of a dancer's dedication to her craft, will enjoy this taut mystery."
—Booklist

"A smart, tough thriller with an all-too-timely topic . . . Lana is a persuasive heroine; jaded, mature, and self-reliant. She has few illusions about the world in which she operates."
—School Library Journal

"Like Stravinsky's Rite of Spring, Elizabeth Kiem's tale of ballerinas and bratva is primal and raw, brutal in its examination of human behavior, and pulsing with tension and spilled secrets. But Hider, Seeker, Secret Keeper is also brimming with grace—the perfect-posture elegance of complex characters who are haunted by their pasts and tradition as they try to emerge into modernity. Kiem's detailed knowledge of Russian language and culture adds just the right amount of authenticity to a thrilling adventure."
—Lindsay Smith, author of Sekret

"This is a hair raising tale of lost illusions and self-discovery. It was almost disturbing how much I recognized Lana and her personal heartbreak. A look behind the curtains at the dangers and obstacles of ambition for the dancer in Russia today."
—Joy Womack, principal ballerina, Kremlin Ballet

"Layered with intrigue, suspense and complex relationships . . . Lana's personality jumps off the page; she isn't your typical cliché protagonist, and this isn't your typical young adult story."
—TeenReads.com



Praise for Dancer, Daughter, Traitor, Spy

"Dancer, Daughter, Traitor, Spy culminates in a tangle of bad guys and intrigue . . . [Evokes] the bleakness and nostalgic charms of the early 1980s [in Russia]. The results are enjoyably escapist. For [readers] enamored with the Russia of literature and film, who want something slightly more contemporary."
—The New York Times

"An action filled story line, beautiful similes, and aspects of Russian Culture."
—Teen Ink, Exceptional Review

"Terrifying . . . Historical fiction meets spy thriller, Dancer, Daughter, Traitor, Spy is sure to keep you on the edge of your seat."
—Dance Spirit Magazine

"In a world where nothing makes sense, what is sanity? . . . This atmospheric, suspenseful story is one of devotion and deception,  innocence and independence, friendship and love, music and dance, immigration and coming of age."
—Booklist, Starred Review

"Sophisticated storytelling with complex characterization and details that provide color and texture . . . A compelling portrait of a young woman on the verge of adulthood, caught up in the domestic secrets of her parents and the enmity of two countries."
—Kirkus Reviews

"I love a book that plunges me headlong into an unfamiliar world. This twisty, dark mystery has it all—terrible choices, narrow escapes, last chance gambles, and the desperate risks you'll take to save the person you love."
—National Book Award Winner Judy Blundell

"Dancer, Daughter, Traitor, Spy has it all: love, death, ballet, and pop music during the Cold War '80s. A romantic, suspenseful, and gracefully written novel."
—Natalie Standiford, author of How to Say Goodbye in Robot and Confessions of the Sullivan Sisters

"Fascinating . . . The twists and turns, as Marina tries to decide whom she can really trust, keep readers guessing right up to the end, just as a good spy novel should."
—School Library Journal

"Think The Girl With the Dragon Tattoo meets Sookie Stackhouse."
—Brooklyn Based

"Kiem has a way with language that brings her surroundings to life whether it's 1982 Russia with its long bread lines, Brighton Beach with its Russian gangsters or the dirty streets of Manhattan."
—Fresh Fiction