Gold of Our Fathers (A Darko Dawson Mystery #4) (Paperback)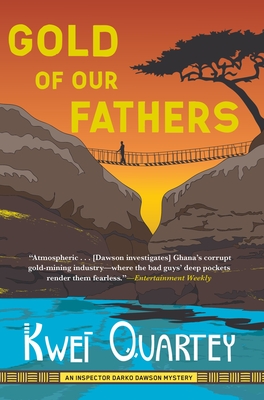 Other Books in Series
This is book number 4 in the A Darko Dawson Mystery series.
Description
---
Darko Dawson, Chief Inspector in the Ghana police service, returns in this atmospheric crime series often compared to Alexander McCall Smith's The No. 1 Ladies' Detective Agency novels.

Darko Dawson has just been promoted to Chief Inspector in the Ghana Police Service—the promotion even comes with a (rather modest) salary bump. But he doesn't have long to celebrate because his new boss is transferring him from Accra, Ghana's capital, out to remote Obuasi in the Ashanti region, an area now notorious for the illegal exploitation of its gold mines.

When Dawson arrives at the Obuasi headquarters, he finds it in complete disarray. The office is a mess of uncatalogued evidence and cold case files, morale is low, and discipline among officers is lax. On only his second day on the job, the body of a Chinese mine owner is unearthed in his own gold quarry. As Dawson investigates the case, he quickly learns how dangerous it is to pursue justice in this kingdom of illegal gold mines, where the worst offenders have so much money they have no fear of the law.
About the Author
---
Kwei Quartey is a crime fiction writer and retired physician based in Pasadena, California. Quartey was born in Ghana, West Africa, to a Ghanaian father and a black American mother, both of whom were lecturers at the University of Ghana. His novel Wife of the Gods made the Los Angeles Times bestseller list in 2009. The following year, the National Book Club voted him Best Male Author. He has two mystery series set in Ghana: the Detective Inspector Darko Dawson investigations  and the Emma Djan investigations.
Praise For…
---
Winner of the 2020 Children's Africana Book Awards for Best Book for New Adults

Praise for Gold of Our Fathers

#3 on Entertainment Weekly's Must List

"The fourth installment in Quartey's atmospheric Darko Dawson series sees the newly promoted hero investigating Ghana's corrupt gold-mining industry—where the bad guy's deep pockets render them fearless."
—Entertainment Weekly

"[Quartey] excels at evoking a sense of place and the many aspects, both appealing and dismaying, of his native land."
—The Seattle Times

"A wonderful gem of a story . . . If you have ever read and are a fan of Alexander McCall Smith's African based stories, you will definitely appreciate Gold of Our Fathers. Do grab a copy and get into Darko's world of policing in Ghana . . . it will truly come to life for you!"
—FreshFiction.com

"Exceptional . . . Fans of mysteries that offer a window into another culture will be more than satisfied."
—Publishers Weekly, Starred Review

"Dawson finds himself caught between warring factions—not just the good guys and the bad guys, but the good guys and the not-so-good guys."
—Kirkus Reviews

"Quartey presents a good-hearted policeman in a noir world of exploitation and corruption." 
—Booklist

"A realistic view of contemporary Ghana through the eyes of an appealing hero, a detective who refuses to cut corners or compromise on his professional ethics . . . Quartey's sympathetic depiction of daily life adds depth and avoids making the setting exotic or ominous."
—Reviewing The Evidence

"Quartey's strong mysteries and well-delineated characters, [and] the vivid setting of Ghana, its culture, and its people are not to be missed . . . Fiction in general—and crime fiction in particular—does have the power to both enlighten and entertain, and Kwei Quartey is very adept at both."
—Kittling Books

"Mr. Quartey paints a fascinating picture of a country most of us know little about. The series is often compared to that of Alexander McCall Smith's (about Botswana) in its depth of capturing the very personality of the country. Add a dose of thriller and you have it! This is a great series that will leave you eager to read the next one."
—EyesOnWorldCultures.com

Praise for Murder at Cape Three Points

An ABA IndieNext Selection

"For hardcore Darko fans, and newcomers as well, this is a page-turner."
—PRI's The World

"Quartey provides such a strong sense of Ghana that you'll be wishing for a platter of kenkey, a staple food made from fermented corn, to keep you from biting your nails to the quick as Dawson winnows down the list of suspects to solve the mystery."
—Oprah.com

"Offers a more contemporary portrait of corporate greed on the continent than McCall Smith's gentle portrait of rural crime."
—The Daily Mail

"Quartey's mastery of the art of misdirection serves him well in his third mystery featuring Accra, Ghana, homicide detective Darko Dawson . . . A complex plot, combined with a warts-and-all lead and an evocative portrayal of the author's native country, add up to a winner."
—Publishers Weekly, Starred Review