The Necessary Hunger (Paperback)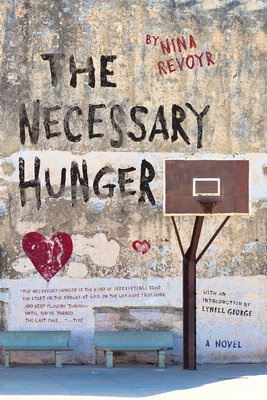 Description
---
A Stevo's Book Reviews on the Internet Best of the Bunch Fiction Pick
High school basketball player Nancy Takahiro's future is uncertain. She's courted by recruiters from various colleges, but isn't sure where she'll go once high school ends. But when her father moves in with the mother of her friend and basketball rival Raina Webber, Nancy's life gets a little more complicated.
--Bustle, included in 15 Sapphic Romances to Cozy Up With This Valentine's Day
Revoyr's The Necessary Hunger is absolutely pioneering: it may be the first work by an out, queer Asian American writer to be published out of a major press AND for that work to include a major queer Asian American lesbian courtship plot. The interracial dynamics and high school sporting plot all make for an engaging work, one well worthy of retaining in print forever
--Asian American Literature Fans
Revoyr's] characters are diverse and full of vulnerabilities, passion, and drive, and it is commendable to see a gay, Asian-American, female athlete as the protagonist...All in all, the story is worth reading to experience the racial tensions and teenage gay love and angst in a city that is growing restless.
--The Eclectic Review
Praise for the original edition of The Necessary Hunger:
The Necessary Hunger is the kind of irresistible read you start on the subway at six p.m. on the way home from work and keep plowing through until you've turned the last page...It beats with the pulse of life...American writers dealing with race relations tend to focus on black-white or Asian-white situations; Revoyr has the imagination to depict racial issues in which whites are not the reference point.
--Time Magazine
Quietly intimate, vigorously honest, and uniquely American...Tough and tender without a single false note.
--Kirkus Reviews
Revoyr triumphs in blending many complex issues, including urban poverty and violence, adolescent sexuality, and the vitality of basketball, without losing sight of her characters. She creates a family, in all senses of the word, of characters who are complex, admirable, and aggravating; readers will root for them on and off the court.
--Detroit Free Press
A wholesome coming-of-age novel about two high school basketball stars, Revoyr's debut is a meditation on consuming passion and a reflection on lost opportunities...The basketball action, which builds climactically, honors the split-second timing and excitement of the game. Revoyr also evokes the feel of contemporary LA, capturing crackheads, gang-bangers, and car-jackings in sharp, street-smart dialogue.
--Publishers Weekly
The Necessary Hunger follows two basketball stars--Nancy Takahiro and Raina Webber--and several of their friends through their last year of high school. For some of them, their senior year will be full of glory, and the anticipation of college. For others, however, stranded in an inner-city Los Angeles neighborhood that promises little in the way of opportunity, it will mark not only the end of their time in school but also the end of their hope.
As Nancy and Raina both prepare to leave the urban neighborhood that has nurtured them, they find themselves looking toward a future that is no longer easily defined. The Necessary Hunger is about families, friendship, racial identity, and young people who are nearing adulthood in a dangerous and challenging world. It is about sports as a means of salvation, about the nature of competition, and ultimately about the various kinds of love.
Our reissue of The Necessary Hunger includes a new introduction by Lynell George, and a new afterword by Nina Revoyr.
About the Author
---
Nina Revoyr is the author of six novels, including The Age of Dreaming, which was a finalist for the Los Angeles Times Book Prize; Southland, a Los Angeles Times best seller and Best Book of 2003; Wingshooters, which won an Indie Booksellers' Choice Award and was selected by O, The Oprah Magazine as one of 10 Titles to Pick Up Now, and A Student of History, available on March 5, 2019 from Akashic Books. Revoyr lives and works in Los Angeles