Murder in the Garment District: The Grip of Organized Crime and the Decline of Labor in the United States (Hardcover)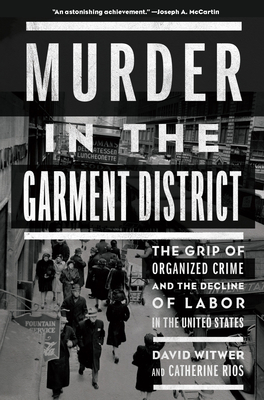 $26.99

Usually arrives at our store within 4-7 days
Description
---
The thrilling and true account of racketeering and union corruption in mid-century New York, when unions and the mob were locked in a power struggle that reverberates to this day
In 1949, in New York City's crowded Garment District, a union organizer named William Lurye was stabbed to death by a mob assassin. Through the lens of this murder case, prize-winning authors David Witwer and Catherine Rios explore American labor history at its critical turning point, drawing on FBI case files and the private papers of investigative journalists who first broke the story. A narrative that originates in the garment industry of mid-century New York, which produced over 80 percent of the nation's dresses at the time, Murder in the Garment District quickly moves to a national stage, where congressional anti-corruption hearings gripped the nation and forever tainted the reputation of American unions.
Replete with elements of a true-crime thriller, Murder in the Garment District includes a riveting cast of characters, from wheeling and dealing union president David Dubinsky to the notorious gangster Abe Chait and the crusading Robert F. Kennedy, whose public duel with Jimmy Hoffa became front-page news.
Deeply researched and grounded in the street-level events that put people's lives and livelihoods at stake, Murder in the Garment District is destined to become a classic work of history--one that also explains the current troubled state of unions in America.
About the Author
---
David Witwer is a professor of history and American studies at Penn State Harrisburg and the author (with Catherine Rios) of Murder in the Garment District as well as Corruption and Reform in the Teamsters Union and Shadow of the Racketeer. Witwer also worked in the Labor Racketeering Bureau of the New York County District Attorney's Office and served as a staff researcher at the New York State Organized Crime Task Force. Catherine Rios is an award-winning filmmaker and writer, an associate professor of humanities and communications at Penn State Harrisburg, and the author (with David Witwer) of Murder in the Garment District.