Social Security for Everyone: 2021-2022 Edition (Paperback)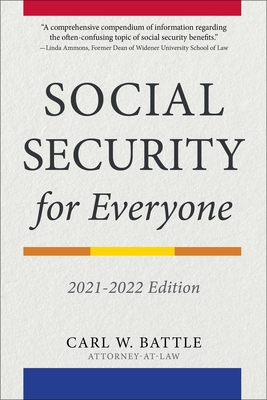 Description
---
All the essential information everyone should know about social security, from maximizing benefits to planning and budgeting for a healthy, happy retirement. 
Nearly 70 million American citizens—1 in 5 people in the US—receive social security benefits each month, and that number is increasing rapidly. With so many people drawing from the system, it's critical for anyone about to start receiving benefits to be well-informed and prepared, and for anyone already receiving social security to make sure they're aware of how to maximize their benefits and to plan ahead for the future. 
In
Social Security for Everyone
, lawyer and bestselling author Carl W. Battle's clear, matter-of-fact explanations will prepare any reader to deal with and understand every aspect of social security benefits. Important topics covered include:
How to apply for social security
Why many people never receive social security benefits
How to maintain independence while receiving social security benefits
Breakdowns of social security benefits for families, survivors, and the disabled
Taxes and social security and how they interact
How to manage and deal with the Social Security Administration
Social Security for Everyone 
also includes dozens of crucial charts, graphs, and tables to help readers plan for retirement, budget for different situations, and maximize their benefits. It's essential reading for anyone preparing to use social security benefits and everyone who is already receiving social security, as well as anyone who wants to know more about this invaluable system.   
About the Author
---
Carl W. Battle is senior vice president and chief patent counsel for GlaxoSmithKline, a global pharmaceutical company. He has served as president of the New Jersey Intellectual Property Law Association and as a director with the American Intellectual Property Law Association Scholarship Fund. He has written several self-help legal and business books, including the bestselling Legal Forms for Everyone (Allworth Press). He lives in Sarasota, Florida.
Praise For…
---
Praise for Social Security for Everyone

"Carl Battle has put together a comprehensive, easy-to-understand guide to accessing our country's most fundamental social safety net. Millions of Americans pay into our country's Social Security system, but how many of us know how to access it when we need it? Whether you are near retirement, living with a disability, or have suffered the devastating loss of a loved one, understanding how Social Security works and how to unlock its benefits is crucial. I found this book to be insightful, and think it will be a helpful tool to many of my constituents and many others."—Jamie R. Gauthier, Philadelphia City Council Member ​

"Social Security for Everyone is a comprehensive compendium of information regarding the often confusing topic of social security benefits.  This book provides, in one place, not only answers to frequently asked questions, but it also gives cogent advice regarding the planning of retirement and the use of the social security benefit as just one element of potential financial retirement independence. A treasure trove of facts, including actual government documents, this manual is a reference guide for not only those who are nearing retirement, but it is an excellent source for those who want to be ahead of the game and plan early."—Linda Ammons, Former Dean of Widener University School of Law