Make Me One with Everything: Buddhist Meditations to Awaken from the Illusion of Separation (Paperback)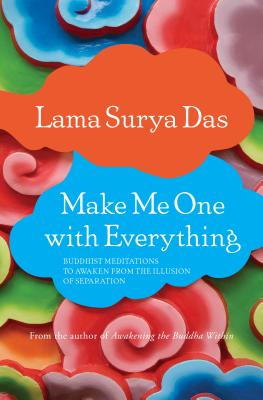 $17.95

Usually arrives at our store within 4-7 days
Description
---
What did the Dalai Lama say to the pizza guy from Brooklyn? "Make me one with everything!" It's a familiar joke, muses Lama Surya Das, but it holds a profound truth: that in addition to inner peace, meditation is a path for all-inclusive connection .With Make Me One with Everything, he invites us to experience this expansive dimension of the dharma through the art of intermeditation.

"If you've ever felt 'at one' with something—your beloved or your child, a wooded trail, a favorite song—then you've experienced intermeditation," teaches Surya Das .Based on Tibetan Buddhism's core insights into the deeply connected nature of who we are, intermeditation offers both new and experienced meditators a fresh new way to commune with every moment—on and off the cushion—in oneness with our partners, our family and friends, our enemies, those in need near or far, our higher Selves, and Nature itself.
About the Author
---
Lama Surya Das is one of the most learned and highly trained American-born lamas in the Tibetan Dzogchen tradition. For over 30 years, he has studied with the great spiritual masters of Tibet, India, and Asia. Born Jeffrey Allen Miller, he left home for college in the 1960s; went to Woodstock; marched in anti-war rallies in Washington; graduated Phi Beta Kappa from SUNY, Buffalo; then went to India and Asia on a spiritual quest. Lama Surya Das is the founder of the Dzogchen Foundation and the author of many books, including Awakening the Buddha Within and Awakening to the Sacred.
Praise For…
---
"Lama Surya Das is a true American treasure, and this may be his most important book yet. In a time when meditation and mindfulness are being turned into navel-gazing narcissism, yoga is being sold as a sexy commodity, and many of our religious truths are being used to advance a gospel of spiritual materialism, Lama Surya Das sets the record straight, reminding us what authentic spirituality is all about and how it can help us to heal ourselves and our world. I hope everyone will read this book—it has the potential to change the direction of American spirituality." —Adam Bucko, coauthor of Occupy Spirituality: A Radical Vision for a New Generation and The New Monasticism: An Interspiritual Manifesto for Contemplative Living

"With his characteristic freshness, clarity, and wisdom, Lama Surya Das invites us into the vibrant domain of relationship with ourselves and all beings. This book nourishes the heart through awareness practices—co-meditations—that are expertly attuned to daily life and awaken us from the trance of separation. Please dip in! Realizing our inherent connectedness is the hope for healing our world." —Tara Brach, PhD, author of Radical Acceptance and True Refuge

"In Make Me One with Everything, Lama Surya Das once again expands the scope of understanding what spiritual practice is all about. Through teachings, stories, personal encounters, and the depth of his own practice, he shows with wisdom, clarity, and humor that in interconnection—inter-meditation—nothing is left out. A much-needed perspective in these times." —Joseph Goldstein, author of Mindfulness: A Practical Guide to Awakening

"A marvelous account of how we meet each other in meditation and life, this book is filled with wisdom, humor, and richness about the how's and why's of inter-meditation." —Roshi Joan Halifax, abbot of Upaya Zen Center

"There are many meditation books out there. This is not one of them. What it teaches is delightfully different from ordinary mindfulness, and deeply profound. If you've gotten your feet wet with mindfulness and are ready for a deeper dive, make yourself one with this book." —Jay Michaelson, author of Everything is God: The Radical Path of Nondual Judaism and Evolving Dharma: Meditation, Buddhism, and the Next Generation of Enlightenment

"A survival manual for our Hearts. Lama Surya Das is transmitting the most profound essence teachings in the language we speak and understand in the West. A great blessing for all of us." —Krishna Das, chant master and devotee of Neem Karoli Baba

"Make Me One with Everything is an important contribution to the new discussion of the future of religion and spirituality in our globalizing age. Sociologists identify this discussion as a 'strategic divide' ripe with 'religious identity paradox' as we move from parochial, tradition-driven religion to the difficulties of a global multicultural civilization. The insights in this book shed important light on how diversity need not become difference and then division. Three cheers!" —Kurt Johnson, PhD, coauthor of The Coming Interspiritual Age

"In this book, the most published and perhaps best known American Tibetan Buddhist writer unfolds his teaching of 'inter-meditation,' a path to discovering, as he says, 'Our oneness with everything.' The author's folksy writing style and extensive use of examples, personal anecdotes, and stories makes this book eminently accessible to beginner and advanced alike. Drawing on the teachings of many different religions as well as his own insights and discoveries, Surya Das shows how a spiritual life in the modern world is not only possible, but very doable." —Reginald A. Ray, author of Touching Enlightenment

"Surya Das has taken a huge and profound leap into Relational Buddhism and inter-meditation through his original co-meditations and other daily life practices and spiritual exercises. This is a beautiful and practical book revealing what the ancient teachings and teachers can powerfully illuminate about deepening and strengthening relationships in our contemporary lives. A wonderful, highly readable, and wise contribution to the awakening-awareness movement today!" —Janet Surrey and Samuel Shem, authors of The Buddha's Wife: The Path of Awakening Together

"In this captivating book, Lama Surya Das introduces a potpourri of methods that illuminate inter-meditation. He has put together a powerful and loving argument for inter-meditation, which ultimately leads to the experience of oneness. There are wonderful flashes of humor and fascinating stories as well as the wisdom that he has culled from his venerable Tibetan Buddhism lineage." —Ram Dass, author of Be Here Now and Polishing the Mirror

"Life's journey is an exciting, scary, unpredictable, and beautiful path. We can choose to walk the path with grace, humor, and love, or we can fight the path with ignorance and frustration. It is critical to have a good friend walk the path with you at various times to help you see the beauty and serenity of the path. In my Indian tradition, we call this a Pad Yatra, a spiritual foot journey. We conduct Pad Yatras all over the world and the Himalayas so that we may better understand ourselves, other beings, and the world. An integral part of the Pad Yatras are the gurus and their teachings. It is considered one of the world's greatest blessings to walk with a great teacher, to follow the footsteps of a great being—the blessings bestowed and the wisdom imparted can carry you through life's many challenges and surprises.
In this book, Make Me One with Everything, Lama Surya Das walks with the reader through life's experiences while imparting ancient wisdom through the voice of a familiar friend. The modern world is a distracting, fast-paced place. Ancient Buddhist wisdom, unfiltered, can be esoteric and seem irrelevant. Lama Surya Das breaks down pieces of these precious Buddhist teachings and translates them so that they are approachable, easy to understand, relevant to today's society, and preserve the ancient wisdom of sacred teachings.
As an old friend of Lama Surya Das, I am very excited that he is sharing his talent, voice, humor, and wisdom with the world. May you be blessed with insight as you embark upon your "Book Yatra" with Lama Surya Das. This wisdom is meant to be universal and should appeal to anyone at any life stage, anywhere in the world. May it help you in your life and may it inspire you to help all the countless beings in the world. May all beings be blessed with a spiritual path and a spiritual guide." —His Holiness the Gyalwang Drukpa, Head of the Drukpa Kagyu School of Tibetan Buddhism