The Seasons of Life: A Companion for the Poetic Journey--Poems and Prose Previously Unpublished in English (Paperback)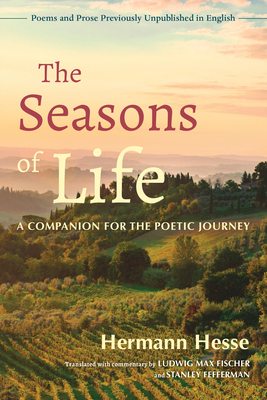 Description
---
A never-before-seen volume of poetry by the preeminent poet laureate Herman Hesse--a beautiful companion to Seasons of the Soul and the author's better-known prose work.

Organized into four parts--spring, summer, autumn, and winter--The Seasons of Life relates the transitions in nature to the organic progressions of human life from birth through death. From the mundane to the sublime, the spiritual to the political, and private feeling to expressed opinion, Hesse touches on the range of human experience, inviting the reader to consider both the beauty and what Hesse called the "adversities of life."

Beloved by readers as a wise and open friend, Hesse offers in this never-before-translated volume an honest portrayal of a whole life: its lessons and mysteries, its glories and despairs. The poet's voice--so treasured in his novels among a worldwide English-speaking audience--can now be enjoyed through this new translation in the follow-up to Seasons of the Soul.
About the Author
---
HERMANN HESSE (1877-1962) was the world-famous author of such best-selling novels as Siddhartha, Demian, Steppenwolf, and Narcissus and Goldmund. Vowing at an early age "to be a poet or nothing at all," Hesse rebelled against formal education, focusing on a rigorous program of independent study that included literature, philosophy, art, and history. He received the Nobel Prize for Literature in 1946. LUDWIG MAX FISCHER, PHD, has taught at The University of Regensburg in Germany, The University of Colorado, The University of Minnesota, The University of California, The University of Southern California, most recently at Willamette University in Oregon with numerous publications in the areas of twentieth century literature, exile literature, and intercultural communications. STANLEY FEFFERMAN has forty years of experience teaching English Literature at York University and fifteen years of experience as a literary and musical performance critic. He is a poet who has published two full-length collections, Home Was Elsewhere (Quattro Books, 2017) and The Heart of All Music: Poems About Music and Musicians (Aeolus House, 2018).