A World Free from Nuclear Weapons: The Vatican Conference on Disarmament (Paperback)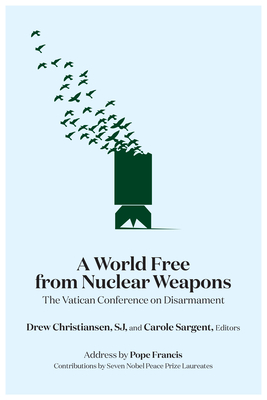 This item is not available.
Description
---
A World Free from Nuclear Weapons, edited by Drew Christiansen, helps readers understand the 2017 UN conference that negotiated the Treaty to Prohibit Nuclear Weapons. Christiansen presents the pope's address and testimonies from other luminaries as they make the moral case against nuclear arms.
About the Author
---
Drew Christiansen, SJ, is Distinguished Professor of Ethics and Human Development at the Walsh School of Foreign Service and a senior fellow at its Berkley Center for Religion, Peace, and World Affairs, both at Georgetown University. He serves as a frequent consultant to the Holy See and as a member of the steering committee of the Catholic Peacebuilding Network. Although best known for his time as editor-in-chief of America: The Jesuit Weekly, he is also the coauthor or coeditor of a number of books, including most recently Forgiveness in International Politics: An Alternative Road to Peace, and a contributing editor for the Journal of Catholic Social Thought and the Review of Faith & International Affairs.Carole Sargent is a literary historian of early modern women's political thought and founding director of Georgetown University's Office of Scholarly Publications. The author of two books, her national media platform has included NPR, CNN, The New York Times, and 60 Minutes. As an Associate of the Sacred Heart (RSCJ), she founded a faculty peace community in Washington, DC, and has presented with Drew Christiansen at the Lay Centre at Foyer Unitas in Rome, Italy, on Catholic sisters who are active in nuclear disarmament.