How We Got the Bible Made Easy (Paperback)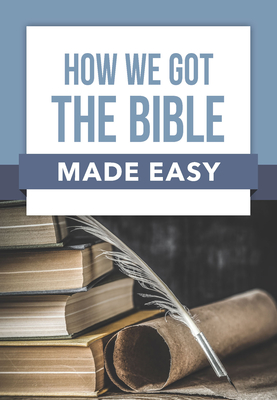 $5.99

Usually arrives at our store within 4-7 days
Description
---
Can you trust the Bible? From Moses to Gutenberg, find out how we got the Bible and discover key information and fascinating facts on key people and events in Bible history in an easy-to-understand way.
From the discovery of the Dead Sea Scrolls to the modern translations of KJV and NIV, each of the quick-reference topics included in this handbook feature solid overviews, full-color illustrations, and more to deepen your understanding of the Bible's reliability. Find out what people did to preserve the text of the Bible over the centuries and learn the inspiring stories behind names like John Wycliffe and William Tyndale.
Using simple summaries, it answers common questions, such as:
How was the Bible translated?
Does the Bible have errors in it? Is it accurate?
How did we get the English Bible?
Why are the Dead Sea Scrolls important?
And more
4 Key Features of the How We Got the Bible Made Easy Book
Includes key people and events throughout the history of the Bible
Contains facts about early Bibles, including the Septuagint, the Vulgate, The Wycliffe and Tyndale Bibles, the King James or Authorized Version Bible, as well as modern translations
Slim and pocket-sized for handy reference
Perfect companion for Bible study
This title from the popular "Made Easy" series is designed to help readers understand the history of the Bible.
How We Got the Bible Made Easy
will increase your confidence in the reliability of the Scriptures
Perfect for individual and group study, church libraries, Sunday school classes, missionaries, and more