A Senior's Guide to the Samsung Galaxy Z Fold3: An Insanely Easy Guide to the Z Fold3 (Paperback)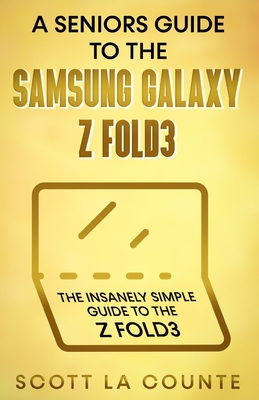 $18.99

Usually arrives at our store within 4-7 days
Description
---
★★★ Learn How to Use the Z Fold3 ★★★
Tablets help you be more productive. But they aren't exactly as portable as your phone. Yes, they are pretty light, but you can't exactly stick them in your back pocket. But what if you could What if you could take that large display and fold it in two If you halve the size, then suddenly it becomes much more portable. The Samsung Galaxy Z Fold3 does exactly that
Something that impressive must cut corners, right? The screen folds, but it lacks power The screen folds, but it lacks a good camera Wrong The screen has that cool factor, but internally, this is one powerful phone
This guide will help new and old users alike learn how to take advantage of all the best features on the Galaxy Z Fold3. These features include:
- What makes Fold3 different from iOS, Android, and other smartphones
- Taking advantage of folding screens
- Setting up your phone
- Making calls
- Installing apps
- Accessibility features
- Using the camera
- Surfing the Internet
- Changing system settings
- A bonus book on using Gmail
- And much more
Are you ready to get the most out of the Samsung Galaxy Z Fold3? Let's get started
NOTE: This guide is not endorsed by Samsung and should be considered unofficial.