Doc: The Life of Roy Halladay (Hardcover)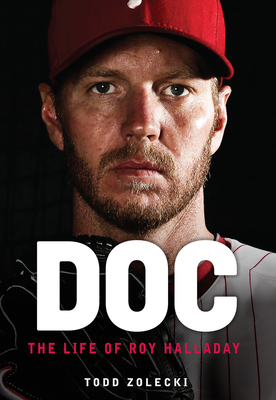 This item is not available.
Description
---
Nobody's baseball story is like Roy Halladay's.
He was born and raised to be a superstar. He was a first-round draft pick in 1995. He nearly threw a no-hitter in his second big-league start in 1998. But two years later, Halladay suffered arguably the worst season by any pitcher in baseball history. He was months away from being out of the game.
Hall of Fame pitchers do not struggle like that. But Halladay vowed to change. He altered his pitching mechanics and rewired his brain to become one of the greatest pitchers of all time. How did Doc do it? Doc: The Life of Roy Halladay tells the remarkable story; based on more than 100 interviews with Halladay's family, friends, managers, coaches, teammates, and competitors, including extensive interviews with his wife, Brandy; comprehensive archival research; and previously unpublished commentary from Halladay himself. Doc not only tells the story of Halladay's illustrious baseball career in Toronto and Philadelphia, but his hard-driven adolescence, his lifelong personal struggles, and his motivation to pay forward the knowledge and philosophies that helped him achieve baseball greatness before his tragic death in 2017.
This essential biography is a testimonial for baseball players and pitchers from high school to the big leagues still searching for their path to excellence, like Halladay. It's also a celebration and a profound exploration of a generational pitcher and a beloved teammate, friend, and family man.
About the Author
---
Todd Zolecki is the Philadelphia Phillies beat reporter for MLB.com. He is the author of The Good, the Bad, and the Ugly: Philadelphia Phillies, and The Rotation: A Season with the Phillies and the Greatest Pitching Staff Ever Assembled.
Praise For…
---
"The Roy Halladay story has so many levels.… [Todd Zolecki] fearlessly explores them all in Doc." —Jayson Stark, writer for The Athletic

"Beautifully written by Todd Zolecki. Was an excellent depiction of the baseball and personal life of the fiercest, most accountable teammate, son, father, husband, and friend." —Ruben Amaro Jr., former general manager of the Philadelphia Phillies

"Great writing by Todd Zolecki." —Dan Plesac, MLB Network analyst and former Halladay teammate

"Highly recommend." —John Barr, host of ESPN's E:60 documentary "Imperfect: The Roy Halladay Story"​

"A very worthwhile read for Blue Jays and Phillies fans, or for any baseball fan, for that matter. Captures him extremely well." —Dan Shulman, ESPN and Blue Jays broadcaster

"What a great book! I highly recommend it!" —Dusty Wathan, Philadelphia Phillies third base coach

"Can't recommend it enough. Read it in two days. Floored by the breadth of the reporting and how Todd handled such a sad and complicated story." —Jesse Dougherty, The Washington Post

"Can't put it down." —Ben Davis, Phillies broadcaster​

"If you're interested in digging deeper into the Halladay story you should … be picking up a copy of the book from [Todd Zolecki]. It's extremely well researched and a great read." —Gregor Chisholm, The Toronto Star

"Very powerful book from Todd Zolecki on Doc." —John Clark, NBC Sports Philadelphia

"Compelling ... Zolecki's work is meticulous in detail ... leads readers on a compassionate journey ... artfully and respectfully paints the picture [of Halladay]." —The Toronto Sun

"He wrote a masterpiece of a book." —Angelo Cataldi, SportsRadio 94WIP Philadelphia

"Zolecki's book goes into detail about all of Halladay's life, including the Hall of Fame pitcher's passion for baseball, hard work and airplanes, driven by a father who shared the same name. Read the book and you can relive Halladay's remarkable career, including his perfect game and a postseason no-hitter against Cincinnati, through the eyes of others. It's a nice way to remember an incredible pitcher and ultra-intense competitor." —Bob Brookover, The Philadelphia Inquirer