Guesthouse for Ganesha (Paperback)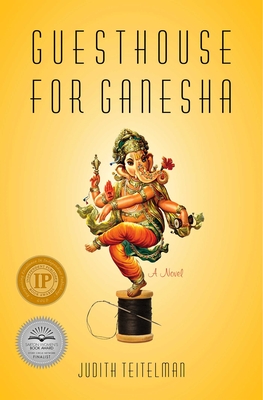 $17.95

Usually arrives at our store within 4-7 days
Description
---
Gold Award in the Regional Fiction (Europe) category of the 2020 IPPY Awards
Gold Medal in the Fiction-Literary category of the 2020 Readers' Favorite Book Awards
Silver Award in the Audiobook: Fiction category of the 2020 IBPA Benjamin Franklin Awards "Teitelman paints an intensely beautiful world in which different cultures merge in surprising ways. . . . A rich and moving story about an unlikely pair." --Kirkus Reviews In 1923, seventeen-year-old Esther Gr nspan arrives in K ln "with a hardened heart as her sole luggage." Thus begins a twenty-two-year journey, woven against the backdrops of the European Holocaust and the Hindu Kali Yuga (the "Age of Darkness" when human civilization degenerates spiritually), in search of a place of sanctuary. Throughout her travails, using cunning and shrewdness, Esther relies on her masterful tailoring skills to help mask her Jewish heritage, navigate war-torn Europe, and emigrate to India. Esther's traveling companion and the novel's narrator is Ganesha, the elephant-headed Hindu God worshipped by millions for his abilities to destroy obstacles, bestow wishes, and avenge evils. Impressed by Esther's fortitude and relentless determination, born of her deep--though unconscious--understanding of the meaning and purpose of love, Ganesha, with compassion, insight, and poetry, chooses to highlight her story because he recognizes it is all of our stories--for truth resides at the essence of its telling. Weaving Eastern beliefs and perspectives with Western realities and pragmatism, Guesthouse for Ganesha is a tale of love, loss, and spirit reclaimed.