Hemingway's Paris: A Writer's City in Words and Images (Paperback)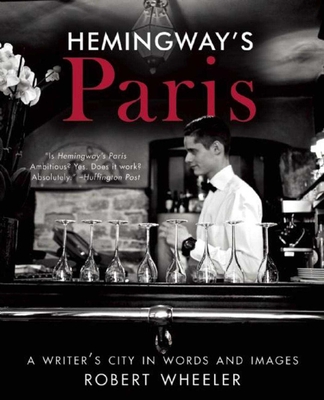 Description
---
"Read this book and savor Hemingway's city." —James Meredith, president, Ernest Hemingway Foundation and Society

For the first time in trade paperback, experience Hemingway's Paris in all its beauty and grandeur. In gorgeous black-and-white images, Hemingway's Paris depicts a story of remarkable passion—for a city, a woman, and a time. No other city in any of his travels was as significant, professionally or emotionally, as Paris. And it remains there, all of the complexity, beauty, and intrigue that Hemingway describes in the pages of so much of his work.

It is all still there for the reader and traveler to experience—the history, the streets, and the city. Restaurants, hotels, homes, sites, and favorite bars are all detailed here. The ninety-five black-and-white photographs in Hemingway's Paris are of the highest caliber. The accompanying text reveals Wheeler's deep understanding of Hemingway: his torment, his talent, the obstacles he faced, and the places of refuge needed to nurture one of the preeminent writers of the twentieth century.

Moved by the humanistic writing of Hemingway, Wheeler was inspired to travel throughout France, Italy, Spain, Africa, and Cuba, where he has sought to gain insight into the motivation behind Hemingway's books and short stories. As a teacher, lecturer, and photojournalist, he set out to capture and interpret the Paris that Ernest Hemingway experienced in the first part of the twentieth century. Through his journal and photographs, Wheeler portrays the intimate connection Hemingway had with the woman he never stopped loving, Hadley, and with the city he loved most, Paris.
About the Author
---
Robert Wheeler fondly recalls time spent with his daughters along Boston's Freedom Trail, from pushing a stroller, to walking hand-in-hand. The rich and fascinating stories evoked by each historic site, as well as the exceptional charm of Boston's quaint city streets, shops, and restaurants, lured him back again and again, inspiring this sensory and absorbing book. Robert is also the author of Hemingway's Paris: A Writer's City in Words and Images and Hemingway's Havana: A Reflection of the Writer's Life in Cuba. He lives near the sea in New Castle, New Hampshire, with his wife, Meme.
Praise For…
---
"Achingly effective." —Booklist, Starred Review

"Is Hemingway's Paris ambitious? Yes. Does it work? Absolutely." —The Huffington Post

"By showing us the Paris that Hemingway saw, walked through, and loved, Robert Wheeler gives us a more complete picture than we have had of this legendary and complicated American writer." —Henry Louis Gates, Jr., Alphonse Fletcher University Professor and Director of the Hutchins Center for African and African American Research at Harvard University

"This book evokes not only the beauty of Paris but especially of Hemingway's remembrance of the early Paris years and his formation as a modernist writer. The exquisite photography and the evocative beauty of the prose bring out the very best of what Paris has to offer: past, present, and, forever, the future. Read this book and savor Hemingway's city." —James Meredith, President, The Ernest Hemingway Foundation and Society

"Wheeler's photographs of Hemingway's Paris are a gritty illustration of what Perkins saw in Hemingway's writing." —Jenny Phillips, grand-daughter of Hemingway's longtime editor, Maxwell Perkins

"In this photographic tribute to Ernest Hemingway, Robert Wheeler uses his unerring eye and masterly vision to bring us Paris, city of literature and romance, in a unique and charming way. Inspired by A Moveable Feast, the crisp black-and-white images and accompanying narrative give us an original insight into both beloved city and renowned author. A delightful experience!" —Valerie Hemingway, Author of Running with the Bulls: My Years with the Hemingways

"If you're interested in Hemingway or Paris, this book is a must read." —Sun Also Rises (Blog)

"Achingly effective." —Booklist, Starred Review

"Is Hemingway's Paris ambitious? Yes. Does it work? Absolutely." —The Huffington Post

"By showing us the Paris that Hemingway saw, walked through, and loved, Robert Wheeler gives us a more complete picture than we have had of this legendary and complicated American writer." —Henry Louis Gates, Jr., Alphonse Fletcher University Professor and Director of the Hutchins Center for African and African American Research at Harvard University

"This book evokes not only the beauty of Paris but especially of Hemingway's remembrance of the early Paris years and his formation as a modernist writer. The exquisite photography and the evocative beauty of the prose bring out the very best of what Paris has to offer: past, present, and, forever, the future. Read this book and savor Hemingway's city." —James Meredith, President, The Ernest Hemingway Foundation and Society

"Wheeler's photographs of Hemingway's Paris are a gritty illustration of what Perkins saw in Hemingway's writing." —Jenny Phillips, grand-daughter of Hemingway's longtime editor, Maxwell Perkins

"In this photographic tribute to Ernest Hemingway, Robert Wheeler uses his unerring eye and masterly vision to bring us Paris, city of literature and romance, in a unique and charming way. Inspired by A Moveable Feast, the crisp black-and-white images and accompanying narrative give us an original insight into both beloved city and renowned author. A delightful experience!" —Valerie Hemingway, Author of Running with the Bulls: My Years with the Hemingways

"If you're interested in Hemingway or Paris, this book is a must read." —Sun Also Rises (Blog)