The Draw Anything Book: Over 200 Simple Step-by-Step Drawing Sequences for All Kinds of Things (Paperback)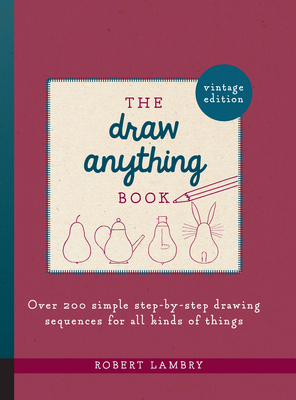 Description
---
In the 1920s and 30s, French artist Robert Lambry (1902–1934) created a series of charming step-by-step lessons for drawing for a weekly children's paper. Now, almost 100 years later, his beautiful lineworks will guide you to drawing perfection. With over 150 easy-to-follow drawings, this visual reference book offers instructions for drawing animals, people, plants, food, everyday objects, buildings, vehicles, clothing, and more.

In Lambry's stylistically vintage form, drawing is easy and the outcome is timeless. From apples to airplanes and zebras to zoo animals, the book makes it easy to draw just about anything! Lambry breaks down the process of drawing into a series of simple shapes and lines, enabling you to recreate even the most complex things in just a few steps. Use the no-slip, woodfree pages to copy the wonderful art. 
The simple step-by-step illustrations make this book perfect for beginners or experienced artists looking for quick sketching techniques. The content is perfect for illustrators, cartoonists, and graphic artists who need to create storyboards with simple ideas. It also includes prompts and practice pages for perfecting your artwork.

You won't be able to resist the temptation to pick up your pencil, follow these elegant examples, and learn to draw everything the Lambry way.
About the Author
---
Little is known about French author and illustrator Robert Lambry, who specialized in practical drawing books, writing in the 1920s and 30s.