My Forgiveness Journey: Changing My Destiny As I Traveled Worlds, A Memoir (Paperback)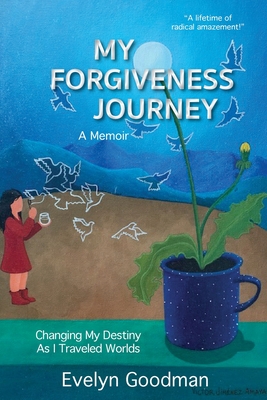 $18.99

Usually arrives at our store within 4-7 days
Description
---
We are dealt a poker hand at birth, and in the game called life we play out our hand. Mine was one I would never have chosen. But destiny, being what it is, gives us no choice.
My travels took me as far from home as Tibet and as close to home as my heart.
This is the story of my journey from far to near, from hurt to healing, how reluctantly I took destiny head-on and much to my surprise, through forgiveness, changed its course.
I hope my story inspires others to do the same.
If I can do it, anyone can. Evelyn Goodman
Evelyn Goodman's memoir is a gift to the reader. Born to Jewish immigrants from Eastern Europe, Evelyn invites us to travel with her through a lifetime of radical amazement. Her memoir follows interwoven paths of her three different careers, her committed engagement with social justice, and to delight her senses and curiosity, her travels far and near. On her path of spiritual development and meditation, she experienced true freedom and forgiveness. When she visited the grave of her great-great-great grandfather, the Hasidic Master Rabbi Levi Yittzhak of Berditchev, she asked for his continued guidance. She had been receiving his guidance all her life, while she attentively followed her heart, along each step on her path.
Rhoda Neshama Waller, Certified Sage-ing Leader
Evelyn Goodman gives us life as a pilgrimage, urged on equally by grit and wonder. Guided by spiritual beings past and present, she develops a splendid knack for divining the best, and forgiving the worst, in the all-too-human. If Evelyn does indeed one day enter her next life, she will certainly know what to do with it Paul Glovinsky, Ph.D.
In this extraordinary memoir, Evelyn Goodman has woven history and memory, a very personal story of a divorced, heartbroken Mother's struggles, with an always woke awareness of the politics around her. Her memory is prodigious, encompassing anecdotes from her several careers, travel experiences, and love and loss. But it is especially her spiritual quest to forgive, taking her from India to the Upper West Side, which structures this journey towards freedom and serenity. Ronnie Scharfman, Ph.D
"Evelyn Goodman's memoir is a parable on forgiveness. In her bold storytelling, one discovers an intrepid alchemist determined to heal heartbreak and betrayal through love, wisdom, and wonder." Kim Schneiderman, author of Step Out of Your Story: Writing Exercises to Reframe and Transform Your Life (New World Library, 2015)
This is not only a lively, charming memoir of secular and spiritual travel and adventure, with a gorgeous streak of mystic rapture. It is also the powerful account of a woman fighting for social justice and human rights on the one hand, and on the other hand struggling with the need to forgive the personally unforgivable. It will teach every reader valuable truths about hurt and healing. Alicia Ostriker, New York State Poet Laureate, author of Waiting for the Light