Habitat Threshold (Paperback)
×
Warning message
Mean Menu style requires
jQuery
library version 1.7 or higher, but you have opted to provide your own library. Please ensure you have the proper version of jQuery included. (note: this is not an error)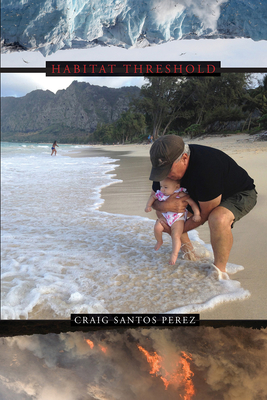 Description
---
With Habitat Threshold, Craig Santos Perez has crafted a timely collection of eco-poetry that explores his ancestry as a native Pacific Islander, the ecological plight of his homeland, and his fears for the future. The book begins with the birth of the author's daughter, capturing her growth and childlike awe at the wonders of nature. As it progresses, Perez confronts the impacts of environmental injustice, the ravages of global capitalism, toxic waste, animal extinction, water rights, human violence, mass migration, and climate change. Throughout, he mourns lost habitats and species, and confronts his fears for the future world his daughter will inherit. Amid meditations on calamity, this work does not stop at the threshold of elegy. Instead, the poet envisions a sustainable future in which our ethics are shaped by the indigenous belief that the earth is sacred and all beings are interconnected—a future in which we cultivate love and "carry each other towards the horizon of care."

            Through experimental forms, free verse, prose, haiku, sonnets, satire, and a method he calls "recycling," Perez has created a diverse collection filled with passion. Habitat Threshold invites us to reflect on the damage done to our world and to look forward, with urgency and imagination, to the possibility of a better future.
 
About the Author
---
Craig Santos Perez is the author of four books of poetry, coeditor of three anthologies of Pacific literature, and cofounder of Ala Press. He is an indigenous Chamorro from the Pacific Island of Guam and, in 2010, was recognized in a resolution by the Guam Legislature as "an accomplished poet who has been a phenomenal ambassador for our island, eloquently conveying through his words, the beauty and love that is the Chamorro culture." He lives in Aiea, Hawai'i. 
Praise For…
---
"Celebrated as 'a phenomenal ambassador for our island' by the Guam legislature, Chamorro professor, editor, and writer Perez explores environmental themes endemic to his island home and also to the inhabitants of other Pacific communities and the planet as a whole, such as carbon emissions, sea level rise, and the scourge of omnipresent plastics. Perez applies sharp wit and surprising humor through an expansive variety of forms . . . . A wickedly intelligent, endlessly talented poet, to be read alongside Daniel Borzutzky, Juliana Spahr, and Clarissa Mendiola."
— Booklist Review of the Day

"The cover is a fitting reflection of the poems in this striking collection, in which the poet's tenderness for family—and particularly his children— is consistently juxtaposed with environmental and ecological catastrophe. This is a vital book of ecopoetry: Perez is an essential voice in the face of the ongoing and relentless intertwining of ecological and social calamities of the Anthropocene/Capitalocene. I am struck by the variety of tonal registers in these poems, from gentle and caring to bitingly satirical, from outraged and dark to playful and devastatingly funny."
— Interdisciplinary Studies in Literature and Environment

"A native Chamorro from Guam, Perez has challenged colonial dominance in his excellent 'from unincorporated territory' series. Here he examines ecological catastrophe in urgent, forthright language, limning a world pushed to the limit by escalating carbon emissions. . . . VERDICT: Not just for environmental activists; showing what an informed poetic voice can do."
— Library Journal

"Longlisted"
— PEN America/Voelcker Award for Poetry Collection

"In this most recent collection, Craig Santos Perez interweaves parental tenderness with knowledge of environmental crisis. With poetic verve and acuity, Perez invites us to the bedside of our ailing world. Formally inventive, these poems read like ritual. The invitation is to come closer, to be with a troubled world. The steady accumulation of these poems will move you to action."
 
— Melissa Tuckey, poet and editor of Ghost Fishing: An Eco-Justice Poetry Anthology

"'There's no half-life of sorrow when our children / inherit this toxic legacy,' Craig Santos Perez writes in Habitat Threshold—and though he is referring specifically to nuclear energy, the line colors everything in the book. No half-life to sorrow: but unending sorrow and rage and terror, expressed in blazing and eloquent poems, at the barely imaginable environmental crisis that has become our world. And still, somehow, tenderness. 'I love you without knowing how or when this world / will end,' Santos Perez writes in 'Love in a Time of Climate Change,' a poem for his wife, which perhaps speaks also to his little daughter, to the creatures and mountains and sea and air, to us all."
 
— Ann Fisher-Wirth, author and coeditor of The Ecopoetry Anthology

"Craig Santos Perez returns poetry to its ancient vocation: not only to sing of the dark times, in a public voice, but to sing in and against the darkness. Always exquisite in his attention to the placement of words for power, beauty, and insight, with Habitat Threshold Perez raises poetry to earth magnitude: his pastorals, odes, sonnets, haikus, recyclings, occasional verse, lullabies, and chants sing plainly and with great precision of the vast and intricate inequalities in and through which world-ecology enmeshes us. These are songs of protest, to be recited in places of public debate and decision, and to be learned by children, but also love songs, for family, place, plant and animal, celebrating the many-hued lifeways of humans and their others. The poems find music in inconvenient truths, with a sobering and detailed indictment of our Capitalocene footprint. Habitat Threshold asks us to change our lives: it is motivating, necessary, and inspiring work."
 
— Jonathan Skinner, poet, editor, and founder of Ecopoetics

"Craig Santos Perez is a writer I seriously watch. He includes a variety of environmentally important writing, seamlessly combined with history, politics, and the familial."
 
— Linda Hogan, writer and environmentalist

"Essential. Read this book."
 
— Camille Dungy, poet and editor of Black Nature: Four Centuries of African American Nature Poetry