The Breathing Place (Paperback)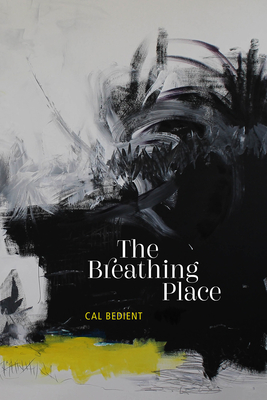 Description
---
The poems in The Breathing Place, Calvin Bedient's fifth collection of poetry, take in and move through three areas of consideration. Focusing first on the turmoil of an imperfect world before turning to raging social concerns, the poems finally come to find a refreshed sense of hope, offering spaces to pause and breathe in the world around us.

First the poet addresses "the limits of the containing air," the atmosphere of a world that moves along a journey ever-farther from whatever Eden it began in. He walks us through the fear and bewilderment, the dips and bumps, the guilt of gazing and desire along a path pointed away from paradise. These poems take in the deep—even if unadmitted—resentment at having to live and breathe in an uninviting world, amid scorched earth, and in a human body that feels the burning of precariousness, anxiety, and grief. The second space calls us to breathe in the now, bringing attention to a troubled world where the atmosphere is filled with strongmen hungry for rivalry, with the stink of age-old inequalities, and where looming climate emergency and nuclear war hover over the waters. The poet finally leads us to green nature, to a space of freshness that somehow survives under threat. Here is the living flow of the senses, the wonders of art, and a renewed feeling of sublimity that thrills from earth to the heavens.
About the Author
---
Calvin Bedient is professor emeritus at University of California, Los Angeles, is a founding editor of the New California Poetry series, and co-edits Lana Turner: A Journal of Poetry & Opinion. He is the author of several collections of criticism, including Eight Contemporary Poets, He Do the Police in Different Voices: The Waste Land and its Protagonist, and The Yeats Brothers and Modernism's Love of Motion in addition to the poetry collections Candy Necklace, The Violence of the Morning, Days of Unwilling, and The Multiple. He lives in Santa Monica, California.
 
Praise For…
---
"[W]holly accessible and bracing."
— Library Journal

"'What is a song without excess?' Bedient asks in his latest book of odd odes, eddying odysseys, antsy still lifes, and abstract memos on various acts of kindness, cruelty, panic, grief. Accompanied under the 'standoffish stars' by Elvis and Eros, Rossini and Ceres, Billy Budd and Bobby Kennedy, the fire- and flower-tongued voice of these poems—chthonic, muscular, debonair—endeavors to overflow limits with lyric, while its elemental 'song with Rogue shadows' rebuffs official national power and its tweeting twit-in-chief. Governed by thunder and lightning and birds, by a gravitas of red, The Breathing Place suggests that beauty may be a seismic, even cosmic disorder."
— Andrew Zawacki, author of UNSUN : f/11

"Cal Bedient's poetry has always been singular and I can happily attest that the The Breathing Place is as sui generis as his other books. Dazzling, peculiar, piquant, Breathing Place is bold and picaresque, with dashes of the Western. His kaleidoscopic play on these dark times tickles the ear, drenches the senses, and saturates the mind. I absolutely love this book and you should too."
— Cathy Park Hong, author of Minor Feelings and of Engine Empire

"At once galloping and exact, Cal Bedient's newest volume is a work of energy and invention; I found myself racing down the staircase of these poems, eager to bring each phrase-shaped wonder into view. This world is familiar in its unlikeliness and lit up by paradox, by O'Hara's erased orange hanging in the sky like the sun. Like tomorrow's sun today. It's shrewd and it's tender. It stuns me a little, and it makes me feel religious, as if I were French."
— Joyelle McSweeney, author of Toxicon and Arachne

"Teeming with utter, gem-cut particulars but vast as the 'ever-more-enormous material world' itself, The Breathing Place titillates with radical specificity as it stretches one's perception to the limits of what it can hold. Bedient has always been drawn to what glimmers, shudders, sizzles and combusts; his poems blister with a beauty rooted in turbulence, defiance, and 'the rage to be extravagant,' as if each of them—even the most elegiac—were, at heart, an argument that all true poetry should emulate 'the Blast that got us here in a Perfect Offense to reason.' Coming to us late in history and late in the poet's own life ('at eighty-three,' he writes, 'I am past caring'), these new poems persist in celebrating the 'furious blunder of creation,' but do so with extra measures of tenderness, poise, and self-reflection, situating Bedient among the very best and boldest of our 'grasshopper-quick troubadours,' who still spin 'cosmic splutter' into song."
— Timothy Donnelly, author of The Problem of the Many

"Cal Bedient's new book is a ruminating, visionary work, the power of which draws from a fierce attending to the element of water. 'Living water' and 'planetary water'--the element connecting the local mountain wilderness rivers to global rising seas--mark the passage of time where new 'currents in the currents' become familiar returns from the past: 'the chafing of limits in the fashion of water's pulsing pliancy.' The Republic reels with white fascism and from wall-building and from withdrawal from climate accords and from lead in the water system--from all of these 'millions of White Accidents' against which Cal Bedient's laments are wholly unprecedented in their primal sublimity and startling pragmatism."
— Richard Greenfield, author of Subterranean