The Wild Bunch: Sam Peckinpah, a Revolution in Hollywood, and the Making of a Legendary Film (Paperback)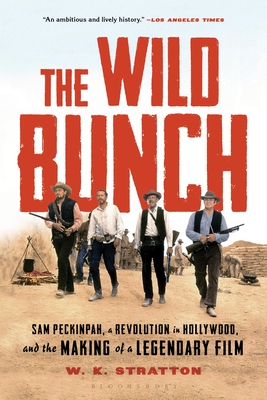 Description
---
W.K. Stratton's definitive history of the making of The Wild Bunch, named one of the greatest Westerns of all time by the American Film Institute.

Sam Peckinpah's film The Wild Bunch is the story of a gang of outlaws who are one big steal from retirement. When their attempted train robbery goes awry, the gang flees to Mexico and falls in with a brutal general of the Mexican Revolution, who offers them the job of a lifetime. Conceived by a stuntman, directed by a blacklisted director, and shot in the sand and heat of the Mexican desert, the movie seemed doomed. Instead, it became an instant classic with a dark, violent take on the Western movie tradition.

Fifty years after its release, W.K. Stratton tells the fascinating history of the movie and documents for the first time the extraordinary contribution of Mexican and Mexican-American actors and crew members to its success. Shaped by infamous director Sam Peckinpah, and starring such visionary actors as William Holden, Ernest Borgnine, Edmond O'Brien, and Robert Ryan, the movie was also the product of an industry and a nation in transition. By 1968, when it was being filmed, the studio system that had perpetuated the myth of the valiant cowboy in movies like The Searchers had collapsed, and America was riled by Vietnam, race riots, and assassinations. The Wild Bunch spoke to the country when war and senseless violence seemed to define both domestic and international life. Stratton's The Wild Bunch is the authoritative history of the making of a movie and the era behind it.
About the Author
---
W.K. Stratton is the author of five books of nonfiction and three of poetry. He has written for Sports Illustrated, Outside, GQ, and Texas Monthly, and was named a fellow of the Texas Institute of Letters in 2017. He is a longtime resident of Austin, Texas.
Praise For…
---
"In his detailed and passionately argued history of The Wild Bunch, writer W.K. Stratton takes the debate to a higher level and convincingly positions the film as the best Western ever made-and among the greatest of movies. Stratton collects the kinds of elements required for a lively movie backstory: a talented if irascible director, quirky cast and crew members, a difficult location shoot and a controversial reception by moviegoers and critics. Best of all, he recounts how an idea becomes a film and the creative, economic and fate-driven roadblocks it faces." —Associated Press

"Reading W.K. Stratton's fine book after watching The Wild Bunch can make for a rich aesthetic feast." —The Washington Post

"Definitive . . . Stratton's book is part making-of chronicle, part appreciation, part personal reminiscence. . . . He's not a film critic, but a passionate and knowledgeable generalist who knows how to drill deep." —Vulture

"Sam Peckinpah's classic western is lovingly picked over in this obsessive treatment of its making and reception." —New York Times Book Review, in New & Noteworthy

"Insightful and engaging, Stratton's book will hold the attention of even those who despise the movie." —Roundup Magazine

"No person of sensibility who has seen The Wild Bunch has not felt the extraordinary richness of lived experience that courses throughout the film. This is one of many things that lifts it far above the action genre and the Western to the epic. It is a singular achievement of W. K. Stratton's book on its making that he shows this was not adventitious . . . Stratton documents how Peckinpah's masterpiece became not only a great film but one of the enduringly great artworks of the past century." —Paul Seydor, author of THE AUTHENTIC DEATH AND CONTENTIOUS AFTERLIFE OF PAT GARRETT AND BILLY THE KID: The Untold Story of Peckinpah's Last Western Film

"Stratton's book examines the history of the Western and details the ambition and, at times, lunacy of making what has become an American classic." —Newsweek

"Muscular study . . . Stratton pulls together big strands of story: the history of the Mexican revolutionary period, Peckinpah's own fascination with Mexico, the history of U.S.-Mexico relations, the history of moviemaking itself. . . Essential reading for fans of the epochal (and reportedly soon to be remade) movie as well as movie-history and Western buffs generally." —starred review, 11 Early 2019 Books We Love, Kirkus Reviews

"Stratton paints a wonderfully full portrait of director Sam Peckinpah and his quest for a more realistic depiction of violence at a time when the brutality of the Vietnam War was increasingly penetrating American living rooms. . . . What's most striking here is the depth of Stratton's research, with attention given to every aspect of, and player in, the film. This engaging, well-researched book belongs in every library and in the hands of every student of cinema." —starred review, Library Journal

"Stratton does a fine job of putting the film in its historical context . . . THE WILD BUNCH is a valuable addition to the literature of American film history and will be greeted by Wild Bunch devotees with adoration." —starred review, Booklist

"Stratton's thorough research yields a fascinating perspective on how Peckinpah created a western of unparalleled realism and intensity." —Publishers Weekly

"My favorite kind of film books tend to be those that go behind the scenes, that provide inside looks at how celebrated films were put together, [THE WILD BUNCH] falls squarely in that category." —Critic's Choice, Kenneth Turan, Los Angeles Times

"Stratton loves "The Wild Bunch" (he succinctly writes, 'I've never seen a better movie'), but this is not a gushing fan letter. Stratton's meticulous research, exhaustive interviews and scholarship all combine to create a fascinating portrait of a maverick filmmaker working at the top of his game and pushing the boundaries of moviemaking." —Shelf Awareness

"Stratton's anecdote-packed book explores when, why and how The Wild Bunch was made." —Dallas Morning News

"Stratton has written an ambitious and lively history . . . At the heart of [THE WILD BUNCH] are dozens of informative and colorful interviews, conducted with everyone from screenwriters and stuntmen to Hollywood producers and Mexican film stars." —Los Angeles Times Book Review

"Stratton provides a casually written but carefully researched account of the making of one of the key films of its time. In so doing, he also helps to show how Westerns have managed to maintain their firm hold on the imaginations of American moviegoers." —Commentary

"Stratton has steeped himself in every last detail of the genesis and production of a movie he plainly knows by heart. He's also a spirited guide to Peckinpah's abrasive worldview, which he's no less plainly besotted with. But partly for that reason, his book inadvertently doubles as a reminder of the hoary time capsule Wild Bunch aficionados now inhabit, whether they like it or not. They're sure to be delighted by Stratton's lively, massively informed chronicle of how The Wild Bunch came to be." —Barnes & Noble Review

"The book digs into how timing and lucky coincidences brought the cast and crew together in Mexico to make the movie happen." —Salt Lake Tribune

"Stratton's book goes into fine detail about the origin of the story . . . If you're the kind of movie fan who loves to read the trivia offered by imdb.com, Stratton's 'The Wild Bunch' is a gold mine." —Oklahoman

"An essential addition to the Peckinpah bookshelf. His vivid account of the hugely difficult creation of the classic western is engrossing" —Film Stage

"W.K. Stratton's The Wild Bunch sets a new standard for film-biography." —TrueWest Magazine