Ten-Step Drawing: Nature: Learn to draw 60 plants & animals in ten easy steps! (Paperback)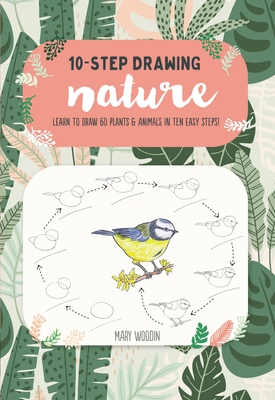 Description
---
Featuring illustrated tutorials for drawing 60 different animals, plants, and insects, Ten-Step Drawing: Nature breaks down each subject into ten simple steps. All you need to get started is a pen or pencil and a piece of paper!

With Ten-Step Drawing: Nature, learn to create an array of animals, insects, and plants, step by easy step. From dragonflies and birds to flowers, feathers, and shells, nature lovers will delight in the varied selection of subjects; as well as how easy it is to recreate them in ten simple drawing steps. Handy prompts help encourage artistic individuality and include helpful tips for drawing other subjects not featured in the book. Approachable text and step-by-step drawings make learning to draw fun and easy, and the portable format allows for spontaneous drawing wherever you may be.

Designed especially for aspiring illustrators, doodlers, and art hobbyists, the fun and approachable books in the Ten-Step Drawing series encourage new artists to get acquainted with the basic principles of drawing so they can learn to create art with confidence. Ten-Step Drawing: Nature is sure to encourage even the most reluctant artist to break out a sketchbook and doodle to their heart's content. So grab a pencil, get out in nature, and start drawing!

Also available in the Ten-Step Drawing series: Flowers, Animals, and People.
About the Author
---
An artist and illustrator based in Suffolk, United Kingdom, Mary Woodin specializes in painting natural subjects and produces artwork for everything from stationery to ceramic tiles. Mary's interest in the outdoors has inspired a number of publications, including The Painted Garden Cookbook (a collection of illustrated recipes produced in her own garden) and Drawn to the Country. Her most recent clients include Waitrose, Tesco, Grand Central Publishing, and Country Living magazine. For more information, visit Mary's website: marywoodin.com.