iPhone 11 Guide: The Ultimate Beginners, Dummies and Seniors's Tips and Tricks Manual on How to Use Your Phone Optimally (Paperback)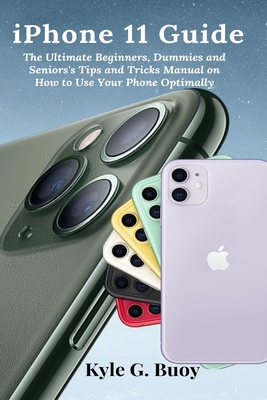 $12.00

Usually arrives at our store within 4-7 days
Description
---
This book shows you exciting tips and in-depth tutorials you need to know about the new iPhone 11 features and the iOS 13 user interface which is why over-100 million people all over the world are lovers of iPhone.
If you're acquiring the iPhone 11 and iPhone 11 Pro and iPhone 11 Pro Max, for the first time, or you probably need more information on how to use your device optimally, and this is the guide for you.
You would discover how to do everything from the set-up process to customizing the iPhone, as well as amazing Tips & tricks you never would find in the original iPhone manual.
Among what you would learn are;
- iPhone 11 correct set-up process
- How to create and use iPhone shortcuts
- How to personalize your iPhone
- iPhone 11 Series Security Features
- Exciting Siri shortcuts
- iPhone 11 screen, battery, control center tips and more.
- How to use Dark mode in iOS 13
- 24 best iPhone 11 features
- All iPhone 11 Gestures you should know
- How to Hide SMS notification content display on iPhone screen
- Erasing/Deactivating Keyboard Dictionary
- How to use the virtual Home button
- How to enable limited USB settings
...and a lot more.
You'll uncover the exclusive features of this new iPhone, plus much more as you read this book.