The Scorpion's Question Mark (Donald Justice Poetry Prize) (Paperback)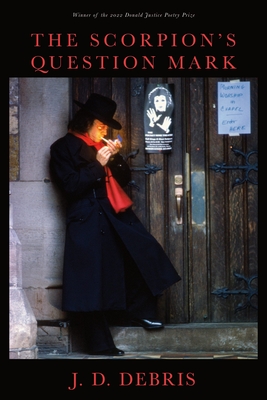 Description
---
A formally inventive debut collection of poetry driven by narrative and character.
 
In this poetry collection, JD Debris focuses on characters who live on society's outskirts and demand greater visibility in the face of marginalization. At the book's heart are extended narrative elegies for two musicians. First, the poet follows Mexican singer and songwriter Chalino Sánchez as he avenges his sister's sexual assault, and then he turns to Gato Barbieri, an influential Argentine tenor saxophonist who is haunted by a shadowy "man in dusk-colored glasses." As these musicians question their purpose, we as readers are invited to reflect on our lives, our legacies, and ourselves.
 
The Scorpion's Question Mark is personal and mythological, representational and abstract. These formally inventive and metrically attuned poems compose a range of contrasts—boxers Manny Pacquiao and Marvelous Marvin Hagler appear alongside Tupac and Herman Melville, and apparitions of the Virgin Mary manifest in both human and mirage-like forms on public beachfronts. Looking to the scorpion's tail that forms the shape of a question mark, Debris seeks to occupy uncertain space within the poems, bending forms to find both expansiveness and tension.
 
The Scorpion's Question Mark was the winner of the 2022 Donald Justice Poetry Prize.
 
About the Author
---
J.D. Debris released the music albums Black Market Organs, J.D. Debris Murder Club, and Yanquis. He currently works as a teaching artist in the Boston Public Schools.
 
Praise For…
---
"What a gift of storytelling, in such deft, memorable music. And, such an eye for detail!—the kind of detail that tells volumes. Listen, for instance, to this: 'Cleaning his pistole, he must hum softly.' So much power in this work, this music, and tone. Listen, also, to this: 'What ridiculous luck, living long enough to sing / how your father was murdered by false policemen. / What ridiculous luck to make it through the chorus.' I love this poet's work."
— Ilya Kaminsky, author of Deaf Republic

"The Scorpion's Question Mark delivers a poetry of lyrical sway, crisscrossing several cultures and languages, with a sound all its own, and does not apologize for natural earthiness. Each reader and listener must be ready to sing and dance, to engage gut feelings and modern realism. The Scorpion's Question Mark deals in personal and public truths, a courageous voice of sheer beauty."
— Yusef Komunyakaa

"All praise to Debris's astonishing debut collection, The Scorpion's Question Mark. Born of trumpet sway and the breath of strings, this book never misses a beat. Like a soulful corrido, he skillfully gives voice to a fractured past. Every turn of the page is a streetwise sonic sojourn, a barefoot samba, a bob and weave, a rhythm of return. Debris offers moments of enlightenment and uplift, 'as if I could fit every not-yet-forgotten name of my fallen / into a single comma-savaged sentence.' These poems sing!"
— January Gill O'Neil