Bad Republican: A Memoir (Hardcover)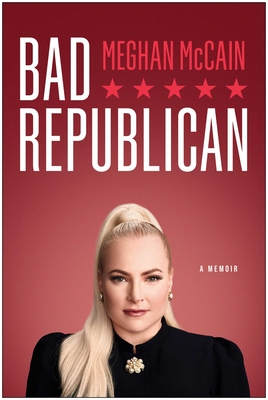 Description
---
With the aptly titled Bad Republican, Meghan McCain expresses how it is to feel like you no longer fit in with your political party.

She tells of growing up the daughter of an American icon who shaped her life and details the heartbreaking final moments spent by his side. She recalls her (mis)adventures on the New York dating scene and brings us up to speed on meeting her now-husband. We hear her views on cancel culture and internet trolls as well as life backstage as the sole Republican at America's most-watched daytime talk show—and why she decided to leave.

Revealingly, she relays the awkward phone call she received from Donald and Melania and where she thinks the Republican Party and the country go from here. And with surprising candor, she divulges why a miscarriage and the birth of her daughter have left her so fired up about women's rights—even if that puts her at odds with her party.

Unsparingly honest, deeply relatable, and highly entertaining, Bad Republican is as personal as a story gets. It's a memoir imbued with an unmistakable maverick spirit.
About the Author
---
Meghan McCain is a former co-host of ABC's The View, which she joined in October of 2017. While at The View, the show rose to new heights earning two daytime Emmy nominations for Outstanding Entertainment Talk Show Host. As the daughter of the late Senator John McCain, Meghan has been steeped in the high-stakes political arena since childhood. Often said to possess the McCain "maverick gene," Meghan has no qualms about saying what is on her mind, bragging that she inherited "my dad's heartburn-inducing ability to say what he thinks."