The Good Guys Agency: Play on Like Ludwig Van Beethoven: Boys for a Better World (Hardcover)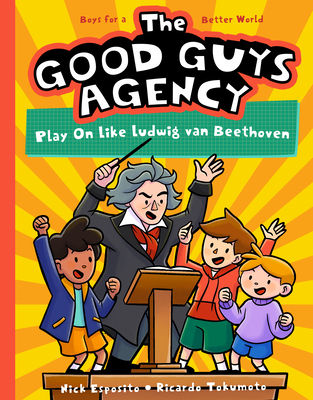 Description
---
"A mix of prose and colorful comic panels make for a fast-moving story affirming the power of kindness and empathy."--Kirkus Reviews?, review of ?Kind Like Fred Rogers (The Good Guys Agency #1)
?The fourth book in the Good Guys Agency series
The dynamic trio is back When their friend Gordie is about to give up on math class (what is it with's and Ys, anyway?), Lucky, Rudy, and Red take another trip back in time--this time to meet Ludwig van Beethoven. After all, if anyone can help Gordie persevere, it's the man who composed his greatest music even after losing his hearing. Can Gordie find the perseverance to push through? Find out in Play On Like Ludwig
What is the Good Guys Agency series?
Boys need better role models, and in The Good Guys Agency series, friends Lucky, Rudy, and Red take matters into their own hands Time travel adventures, historic heroes, comic book panels, laughs, jokes, and more deliver a winning combination of fun, education, and values to inspire a new generation of honorable men. Perfect for fans of Captain Underpants and Dog Man
About the Author
---
Nick Esposito is an award-winning teacher and education consultant with a passion for bringing best practices of service learning into the classroom. Nick has travelled around the world serving with different organizations for different cultures and peoples. Through these experiences he has developed the belief that educational experiences must sharpen the mind and embrace the heart. Nick has degrees from Villanova University (Journalism, Sociology, Peace & Justice), Johns Hopkins (Masters in Urban Education) and the University of Pennsylvania (Masters in Education Entrepreneurship). Nick is the ecstatic husband of the love of his life and 'Habitat Crush', Cynthia. He is also a long time hockey player, and Philadelphia sports fan. He is the proud teacher of hundreds of students, all of whom are impacting the world in their own exciting, unique, yet quirky ways.