There are no products in your shopping cart.
The Grim Sleeper: The Lost Women of South Central (Paperback)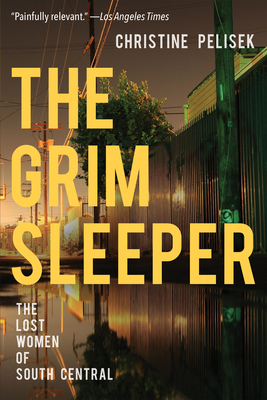 Description
---
The inside story of one of the notorious and elusive serial killer who stalked the vulnerable, the young, and the ignored in 1980s Los Angeles--only to return in 2002.
The Grim Sleeper was one of the most brutal serial killers in California history, preying on the women of South Central for decades. No one knows this story better than Christine Pelisek, the reporter who followed it for more than ten years. Based on extensive interviews, reportage, and information never released to the public, The Grim Sleeper captures the long, bumpy road to justice in one of the most startling true crime stories of our generation from his violent first crime while serving in the US Army to his inevitable death in prison.
"This upsetting account of a Los Angeles serial killer, written with passion by Christine Pelisek, an investigative crime reporter who spent 10 years working the case, blurts out a hard truth that no one wants to acknowledge . . . She] tries to restore dignity to some of the victims by drawing sympathetic and carefully detailed life histories for each and every one of them." ―Marilyn Stasio, The New York Times Book Review
About the Author
---
CHRISTINE PELISEK is an award-winning journalist who's a senior writer with People Magazine. She received a Certificate of Appreciation from the City of Los Angeles for her work on the Grim Sleeper case. She lives in Los Angeles.
Praise For…
---
Praise for The Grim Sleeper

"This upsetting account of a Los Angeles serial killer, written with passion by Christine Pelisek, an investigative crime reporter who spent 10 years working the case, blurts out a hard truth that no one wants to acknowledge . . . [She] tries to restore dignity to some of the victims by drawing sympathetic and carefully detailed life histories for each and every one of them." —Marilyn Stasio, New York Times Book Review

"Painfully relevant . . . The heart of this book—which is indeed grim, but also necessary—is in its subtitle, 'The Lost Women of South Central' . . . At its best, The Grim Sleeper is an informal ethnography that describes how African American families came to Los Angeles from the South and Midwest, what they found there, what they didn't. It is a group portrait of families clawing their way into the middle class, only to often slip back into poverty, drugs and alcohol. Pelisek is masterful in teasing out the stories of Franklin's victims. For the first time, you will know their names, and their names will stay with you." —Los Angeles Times

"[A] gripping reconstruction of the lives of some of the many impoverished victims of the recently convicted serial slayer." —New York Magazine

"Pelisek takes readers through the investigation step-by-step, and she also delves into the details of the women's lives. The author paints each victim clearly, and she palpably captures the pain of the families left behind . . . True-crime fans will greatly appreciate Pelisek's detail and determination."—Kirkus

"Through this fascinating read, Pelisek delves deeply into the connections between the war on drugs, the misguided search for The Southside Slayer, the Los Angeles Police Department's indifference, and the cultural disregard for sex workers . . . An engrossing read for those invested in true crime, but also a cautionary tale for law enforcement." —Bitch Media

"A dark and disturbing story that reveals the failure of the police and the justice system in impoverished communities of color, The Grim Sleeper is a must-read for true crime fans who want to see how crime reporting can make a difference." —Bustle

"With insights into race and crime, universal grief and ultimate justice, The Grim Sleeper succeeds in being both disturbing and satisfying. The book's main focus is neither the murderer nor Pelisek's involvement. It's the victims." —The Toronto Star

"A powerful piece of true crime reporting with an added layer of humanity and personality that I find is missing from some of the more popular books in the genre. Pelisek humanizes not only the devious serial killer, Lonnie Franklin, but each of his victims while framing it with her own experiences covering the winding saga. Human, touching, gripping, and hard to put down." —Alex Segura