Rage: Narcissism, Patriarchy, and the Culture of Terrorism (Hardcover)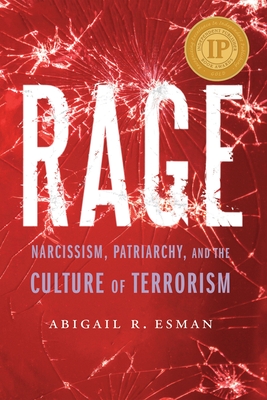 $29.95

Usually arrives at our store within 4-7 days
Description
---
2022 IPPY Gold Medal in Current Events 

In the days after 9/11, Abigail R. Esman walked the streets of New York haunted by a feeling that was eerily familiar: the trauma of violence that hovered in the air. Friends, family, and strangers moved, walked, even stood as she herself had done earlier as a victim of domestic battery and abuse. Since then, Esman, a journalist who specializes in writing on terrorism and radicalization, has studied the connections between domestic abuse and terrorism and the forces that inspire both forms of violence. In Rage: Narcissism, Patriarchy, and the Culture of Terrorism Esman brings into focus the complex web that ties them together, illuminating the terrorist psyche and the cultures that create it.

With this new approach to understanding terrorism and violence, Esman presents clear explanations of pathological narcissism and its roots in shame-honor cultures—both familial and sociopolitical—through portraits of terrorists and batterers, including O. J. Simpson, Osama bin Laden, Anders Breivik, and Dylann Roof. The insights of psychiatrists, former white supremacists, Islamist terrorists, national security experts, and others elaborate her thesis, while Esman's own experiences with abuse and the aftermath of 9/11 on the streets of New York City further enrich the narrative.

At a time when so many lives are threatened by public violence and terrorism, understanding the forces that incite them has become crucial, and finding solutions, urgent. Esman proposes social and policy initiatives aimed at reducing violence while engendering social equality and enriching women's rights. Such proposals, she argues, are essential to overcoming the cultural and political forces that hinder progress toward security and peace. This groundbreaking book sheds new light on the roots of violence and terrorism while advancing proactive measures to protect our values and traditions of justice, equality, and freedom.
About the Author
---
Abigail R. Esman is the author of Radical State: How Jihad Is Winning Over Democracy in the West. An award-winning journalist and essayist, she has contributed to Foreign Policy, Salon.com, the New Republic, Politico, the Wall Street Journal, the Washington Post, the New York Times, World Policy Review, and other venues. She is a regular contributor to the Investigative Project on Terrorism and has spoken widely on the subject, including appearances on radio programs such as WNYC's Brian Lehrer Show, BBC News, and CNN.
 
Praise For…
---
"Rage: Narcissism, Patriarchy, and the Culture of Terrorism by Abigail R. Esman is gripping, fast paced, deeply personal, and thoroughly shreds social decorum. Esman, a contributor to the Investigative Project on Terrorism, lays bare the personal traits and domestic abuse that can be used to forecast radicalization and accurately assess intent to commit acts of terrorism."—Keri Douglas, The Algemeiner

"Erudite, insightful, alarming, recognizable, informative, timely and timeless, Rage: Narcissism, Patriarchy, and the Culture of Terrorism is a fully absorbing read and an invaluable contribution to our on-going dialogue with respect to the kinds of issues that are tearing our families and our country apart with the rising tide of American home-grown radicalization leading to insurrectionist attacks on democracy itself. Deserving of as wide a readership as possible, Rage: Narcissism, Patriarchy, and the Culture of Terrorism is especially and unreservedly recommended for community, college, and university library collections. Exceptionally well written, organized and presented, it should be noted for the personal reading lists of students, academia, political activists, governmental policy makers, and non-specialist general readers with an interest in the subject."—Mary Cowper, Midwest Book Review

"Esman's gorgeously written book maps with precision the subterranean corridors between domestic abuse and terrorism. A must-read for anyone interested in understanding—or taming—the darker corners of the human psyche."—Michael Noer, executive editor of Forbes

"There has never been a book about terrorism quite like this. In Rage Abigail R. Esman dares to expose the raw nerves that link domestic abuse and mass murder. The connections she makes are scholarly sound, deeply personal, and have an emotional resonance that many readers will find unforgettable."—Christopher Dickey, world news editor for the Daily Beast and author of Securing the City: Inside America's Best Counterterror Force–the NYPD

"I am impressed, especially by psychological insights that partly arise from psychoanalysis, and also from a kind of astute application of sociology. Esman's ideas and documentation really do help an understanding of the bond between individual craziness and craziness that becomes a general cultural bond, and it will be difficult for me to look at these things without remembering what the author has to say."— Stephen Koch, author of Hitler's Pawn: The Boy Assassin and the Holocaust and Double Lives: Spies and Writers in the Secret Soviet War of Ideas Against the West