Gifted Greek: The Enigma of Andreas Papandreou (Hardcover)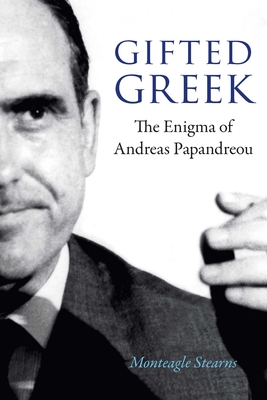 $29.95

Usually arrives at our store within 4-7 days
Description
---
Gifted Greek is a reflection on twentieth-century Greek history and politics, as well as a character study of its first socialist prime minister, Andreas Papandreou. Monteagle Stearns witnessed the transformation of Papandreou from an affable American economist to a stormy, anti-American Greek, over Stearns's three diplomatic assignments to Athens, the last as a U.S. ambassador.

The unresolved dispute over how and by whom Greece should be governed parallels the equally unresolved issues between Papandreou and his estranged father, George. Andreas, who left Greece in 1940, became a naturalized American citizen and a twenty-year resident of the United States. In contrast, George was thoroughly Greek: a flamboyant, republican-leaning politician, a one-time prime minister, and a perennial leader of Greece's Liberal Party.

Stearns arrived in Athens as a diplomat in early 1958, in the thick of Greece's political turmoil. Over the next five years, he came to know first George Papandreou and then his son, Andreas. As neighbors in suburban Athens, as fellow Americans, and as like-minded critics of the problems still afflicting postwar Greece, Stearns and Andreas quickly established a warm friendship. Over the decades, however, that friendship was tested and frayed. Gifted Greek is a reflection on the Cold War era, on its impact on Greece, and on Andreas himself—whose dual nature had long fascinated the author and led to this account of their curiously entwined professional and personal lives.

 
About the Author
---
Monteagle Stearns(1924–2016) was an American diplomat and a U.S. ambassador to Greece. He is the author of Entangled Allies: U.S. Policy toward Greece, Turkey, and Cyprus and Talking to Strangers: American Diplomacy at Home and Abroad.
Praise For…
---
"No American knew post–World War II Greece more intimately and affectionately than Ambassador Monteagle Stearns. And no Greek leader had a more complicated relationship with the United States than the mercurial and larger-than-life Prime Minister Andreas Papandreou. In this fascinating book Stearns chronicles the rise and fall of Papandreou, his complex legacy for Greece, and his equally long and complicated relationship with the United States."—Nicholas Burns, professor of diplomacy and international relations at Harvard University and former U.S. ambassador to Greece

"This is a great book about Andreas Papandreou, one of Greece's most important and controversial leaders. It is a firsthand account of his journey from U.S. academia to the modern Greek political circus written by Monty Stearns, a seasoned American diplomat who served in Athens and became one of the most astute and objective observers of the Greek scene. Racy and full of valuable anecdotes—it brings to life Andreas's adventurous and deeply torn charismatic personality."—Alexis Papachelas, executive editor of the daily newspaper Kathimerini (Athens, Greece)

"Monteagle Stearns was one of the best and the brightest of postwar American diplomats and a true friend of Greece. His book paints a critical but fair portrait of former prime minister Andreas Papandreou while at the same time offering invaluable insights on Greece's turbulent postwar politics."—Constantine Arvanitopoulos, professor and Karamanlis Chair of Hellenic and European Studies at Tufts University

"This is a superb history of twentieth-century Greek politics as this unique U.S. diplomat saw and lived it. It is also a personal memoir of his interactions over time with Andreas Papandreou, evoking the ambassador's legendary wit and wisdom. As for Papandreou's years at Athens College (1929–1937), his schoolboy ups and downs are fully captured here and provide a taste of what was to come."—Richard Jackson, president of Athens College