Blank Comic Book: Draw Your Own! (Paperback)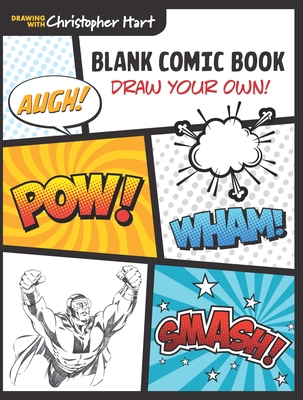 Description
---
Tell your own story in comic-book form with this blank journal--already formatted with panels
An intro from art instruction superstar Christopher Hart will get you started. Whether they're interested in producing comic strips, manga, or graphic novels, aspiring illustrators can begin their own artistic journey with this specially produced journal. Every page features blank, black-framed panels formatted in the comic-book style, and separate sections throughout allow artists to create several different stories. Those with more experience can use the journal to flesh out their narrative and visual ideas, while beginners can experiment with the format and see where it takes them. The possibilities for self-expression are endless.
About the Author
---
Christopher Hart is a bestselling author who has taught millions of people to draw with his clear and friendly step-by-step approach to art instruction. With more than seven million copies of his books in print, he is the world's leading author of art instruction books. His titles frequently appear on the Bookscan Top 50 Art list. They also have a huge international audience, having been translated into more than 20 languages. In his more than 50 titles, Hart offers artists accessible, generously illustrated, and clearly written step-by-step instruction on a wide variety of how-to-draw subjects, including manga, figure drawing, cartooning, comics, fashion, and animals. He lives in Westport, CT.