The Person and Work of The Holy Spirit (Paperback)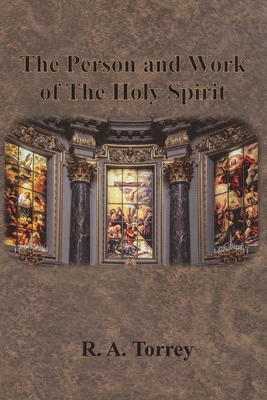 $7.77

Usually arrives at our store within 4-7 days
Description
---
Complete edition of The Person and Work of The Holy Spirit by R. A. Torrey. Part of the trinity, the Holy Spirit "will guide you into all the truth," and worthy to focus on in this timeless study. Daily readings and contemplation of the scriptural references are intended to deepen the reader's relationship with God.
"The Holy Spirit is not a power that we get hold of and use according to our will but a Person of sovereign majesty, who uses us according to His will."
All students of thought should get this historic book. This edition is provided in a slim volume with full text at an affordable price.
TABLE OF CONTENTS
I: THE PERSONALITY OF THE HOLY SPIRIT
II: THE DEITY OF THE HOLY SPIRIT
III: THE DISTINCTION OF THE HOLY SPIRIT FROM THE FATHER AND FROM HIS SON, JESUS CHRIST
IV: THE SUBORDINATION OF THE SPIRIT TO THE FATHER AND TO THE SON
V: THE PERSON AND WORK OF THE HOLY SPIRIT AS REVEALED IN HIS NAMES
VI: THE WORK OF THE HOLY SPIRIT IN THE MATERIAL UNIVERSE
VII: THE HOLY SPIRIT CONVICTING THE WORLD OF SIN, OF RIGHTEOUSNESS AND OF JUDGMENT
VIII: THE HOLY SPIRIT BEARING WITNESS TO JESUS CHRIST
IX: THE REGENERATING WORK OF THE HOLY SPIRIT
X: THE INDWELLING SPIRIT FULLY AND FOREVER SATISFYING
XI: THE HOLY SPIRIT SETTING THE BELIEVER FREE FROM THE POWER OF INDWELLING SIN
XII: THE HOLY SPIRIT FORMING CHRIST WITHIN US
XIII: THE HOLY SPIRIT BRINGING FORTH IN THE BELIEVER CHRISTLIKE GRACES OF CHARACTER
XIV: THE HOLY SPIRIT GUIDING THE BELIEVER INTO A LIFE AS A SON
XV: THE HOLY SPIRIT BEARING WITNESS TO OUR SONSHIP
XVI: THE HOLY SPIRIT AS A TEACHER
XVII: PRAYING, RETURNING THANKS, WORSHIPPING IN THE HOLY SPIRIT
XVIII: THE HOLY SPIRIT SENDING MEN FORTH TO DEFINITE LINES OF WORK
XIX: THE HOLY SPIRIT AND THE BELIEVER'S BODY
XX: THE BAPTISM WITH THE HOLY SPIRIT
XXI: THE WORK OF THE HOLY SPIRIT IN PROPHETS AND APOSTLES
XXII: THE WORK OF THE HOLY SPIRIT IN JESUS CHRIST