Or/And: Poems (Paperback)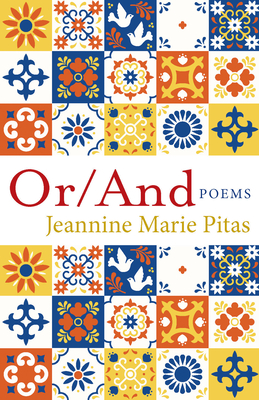 $21.00

Usually arrives at our store within 4-7 days
Description
---
In his famed treatise Either/Or, Christian existentialist philosopher Søren Kierkegaard suggests that our basic human condition is one of choice and freedom. But what about when we struggle to discern the right path forward, when we stumble between contradictory desires, when we want everything? Such insatiability – which the ancient Greeks called pleonexia – leads to suffering and sorrow for ourselves and others, not to mention the earth we call home. But what about when "either/or" thinking becomes too rigid in its limits? What about those moments when we see scarcity instead of the many possibilities that abound, when fear keeps us from giving and receiving our full share?
This book of poetry is an exploration of those times when it is necessary to make either/or choices as well as other times when, even if only briefly, we are able to echo Richard Rohr in affirming, "Yes, And." It is a story of stumbling in darkness and seeking light, of succumbing to sinfulness and facing consequences, of desiring deeply and bumping up against limits. It's about addiction and recovery, justice and mercy, redemption found through friendship and community. It's about seeking ways to open doors and tear down walls. Ultimately, it is about the divine grace that occasionally manages to expand our possibilities, transforming us into vessels of boundless compassion.
About the Author
---
Jeannine Marie Pitas is a teacher, writer, and Spanish-English literary translator from Buffalo, NY currently residing in Pittsburgh and teaching at St. Vincent College. She is the author of one previous collection of poems, Things Seen and Unseen (Mosaic Press, 2019) and the translator or co-translator of nine books by various Latin American poets. She is Spanish translation editor for Presence: A Journal of Catholic Poetry and has contributed work to such publications as National Catholic Reporter, US Catholic, The Christian Century, Beltway Poetry Quarterly and The Paris Review. She has been a legal guardian to three young immigrants from Guatemala applying for Special Immigrant Juvenile Status in the US, and she believes firmly in the right of people to choose where they live.
Praise For…
---
"In uncommonly accomplished prose and verse, and with a remarkably audible, canny, and compelling voice, these poems perform the sort of surprises that feel like long-held, subconscious wisdom just now coming into our apprehension, just now, when we most need such wisdom." —Scott Cairns, Slow Pilgrim: The Collected Poems and Anaphora: New Poems

"These poems do not equivocate desire and faith. Pitas has created a questing volume of dancing, blazing language to speak shibboleth." —Jon M. Sweeney, coauthor, Meister Eckhart's Book of the Heart

"Every page of this book confides brilliantly–through folklore, fantasy, reality—all sentiments possible, in words never imagined before. Or/And is a perfect title because the poems embody so many kinds of experiences: personal, social, magical—even those of crisis "or/and" loss –all brighten the room with flair and originality. Author Pitas teaches us to be new, to be unafraid, to transcend the limits of language. I say, 'Now THIS is poetry! Thank you!'" —Grace Cavalieri, Maryland Poet Laureate