Fodor's the Complete Guide to African Safaris: With South Africa, Kenya, Tanzania, Botswana, Namibia, & Rwanda (Full-Color Travel Guide #5) (Paperback)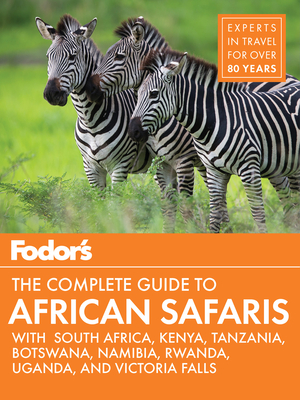 This item is not available.
Other Books in Series
This is book number 5 in the Full-Color Travel Guide series.
Description
---
For a limited time, receive a free Fodor's Guide to Safe and Healthy Travel e-book with the purchase of this guidebook Go to fodors.com for details.
Written by local experts, Fodor's travel guides have been offering advice and professionally vetted recommendations for all tastes and budgets for 80 years.
Fodor's correspondents highlight the best African safari destinations in both eastern and southern Africa. Travelers will be able to determine which African safari destination is best for them and plan their trip step by step starting months before departure up to the day of arrival. We cover the best local and international safari tour operators with information on how to create a dream safari, whether it's a luxury, bespoke experience, or a rustic in-the-bush excursion. Plus, Fodor's reveals the best beaches for must-needed post-safari relaxation. More in-depth planning information is given for popular gorilla treks in Rwanda and Uganda.
This travel guide includes:
UP-TO-DATE COVERAGE:
New recommendations include the best new safari camps and tour operators
ILLUSTRATED FEATURES:
Special full-color "Fodor's Features" throughout the guide provide rich information on the Big Five, the Great Migration, the Dunes of Namibia, and African culture. Gorgeous photos throughout, many by Fodor's travelers, provide endless inspiration.
INDISPENSABLE TRIP PLANNING TOOLS:
Travelers can discover details about animals and birds, including the Big Five, with checklists for each country. Fodor's offers a hierarchy of safari parks in each country, with detailed lodging options, and compare tour operators with an easy-to-read chart broken down by experience, expertise, and clientele. Internet resources, a planning timeline, packing lists, must-ask questions, and information on what to expect after arrival are provided in easy-to-use, compact features.
DISCERNING RECOMMENDATIONS:
Fodor's The Complete Guide to African Safaris offers well-informed advice and recommendations from expert and local writers to help travelers make the most of their time. Fodor's Choice designates our best picks, from hotels to nightlife.
COVERS:
South Africa, Kenya, Tanzania, Botswana, Namibia, Rwanda, Uganda, Victoria Falls, South African Wine Country, Zanzibar, Kruger National Park, Skeleton Coast, Victoria Falls, Okavango Delta, Serengeti National Park, and Mount Kilimanjaro