Omar Khayyam's Secret: Hermeneutics of the Robaiyat in Quantum Sociological Imagination: Book 2: Khayyami Millennium: Reporting the Discovery (Hardcover)
×
Warning message
Mean Menu style requires
jQuery
library version 1.7 or higher, but you have opted to provide your own library. Please ensure you have the proper version of jQuery included. (note: this is not an error)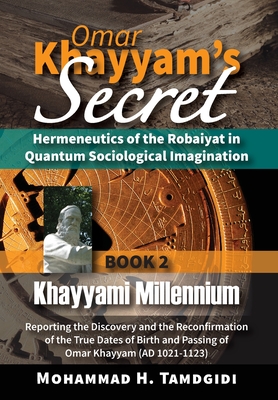 This item is not available.
Description
---
Omar Khayyam's Secret: Hermeneutics of the Robaiyat in Quantum Sociological Imagination is a twelve-book series of which this book is the second volume, subtitled Khayyami Millennium: Reporting the Discovery and the Reconfirmation of the True Dates of Birth and Passing of Omar Khayyam (AD 1021-1123). Each book is independently readable, although it will be best understood as a part of the whole series.
In the overall series, the transdisciplinary sociologist Mohammad H. Tamdgidi shares the results of his decades-long research on Omar Khayyam, the enigmatic 11th/12th centuries Persian Muslim sage, philosopher, astronomer, mathematician, physician, writer, and poet from Neyshabour, Iran, whose life and works still remain behind a veil of deep mystery. Tamdgidi's purpose has been to find definitive answers to the many puzzles still surrounding Khayyam, especially regarding the existence, nature, and purpose of the Robaiyat in his life and works. To explore the questions posed, he advances a new hermeneutic method of textual analysis, informed by what he calls the quantum sociological imagination, to gather and study all the attributed philosophical, religious, scientific, and literary writings of Khayyam.
In this second book of the series, Tamdgidi lays down an essential foundation for the series by revisiting the unresolved questions surrounding the dates of birth and passing of Omar Khayyam. Critically reexamining the manner in which Omar Khayyam's birth horoscope as reported in Zahireddin Abolhassan Beyhaqi's Tatemmat Sewan al-Hekmat (Supplement to the Chest of Wisdom) was used by Swāmi Govinda Tīrtha in his The Nectar of Grace: Omar Khayyam's Life and Works (1941) to determine Khayyam's birth date, Tamdgidi uncovers a number of serious internal inconsistencies and factual inaccuracies that prevented Tīrtha (and, since then, other scholars more or less taking for granted his results) from arriving at a reliable date for Khayyam's birth, hurling Khayyami studies into decades of confusion regarding Khayyam's life and works. Tamdgidi then shares in the book the detailed account of his own discovery of Khayyam's true date of birth for the first time, a finding that eluded Khayyami studies for centuries and is bound to revolutionize the studies for decades to come.
Tamdgidi then turns his attention to the task of definitively establishing the true date of passing of Omar Khayyam. Conducting an in-depth, superposed analysis of Beyhaqi's Tatemmat Sewan el-Hekmat (Supplement to the Chest of Wisdom), Abdorrahman Khazeni's Mizan ol-Hekmat (Balance of Wisdom), Nezami Arouzi's Chahar Maqaleh (Four Discourses), and Yar Ahmad Rashidi Tabrizi's Tarabkhaneh (House of Joy), amid other relevant texts, he succeeds in firmly reconfirming and further discovering, in a textually reliable way, not only the year, the season, the month, and the day, but even the most likely time of day at which the poet mathematician, astronomer, and calendar reformer died as a solar centenarian, completing his 102nd solar year age.
Strange is that these discoveries are made just in time as we approach the first solar millennium of Omar Khayyam's birth date on June 10, AD 1021, at sunrise of Neyshabour, Iran, and the ninth solar centennial of his passing on June 10, AD 1123, on the eve also of his birthday, closing the circle of his life's "coming and going."