The Problem with the Other Side (Hardcover)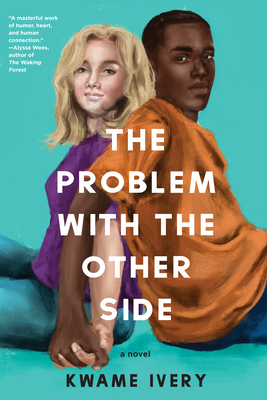 $18.99
Email or call for price
Description
---
A searing YA debut that follows the joys, complexities, and heartbreaks of an interracial romance between high school sophomores that blossoms during a volatile school election

Uly would rather watch old Westerns with his new girlfriend, Sallie, than get involved in his school's politics—why focus on the "bad" and "ugly" when his days with Sallie are so good? His older sister Regina feels differently. She is fed up with the way white school-body presidential candidate Leona Walls talks about Black students. Regina decides to run against Leona . . . and convinces Uly to be her campaign manager.

Sallie has no interest in managing her sister's campaign, but how could she say no? After their parents' death, Leona is practically her only family. Even after Leona is accused of running a racist campaign that targets the school's students of color—including Sallie's boyfriend, Uly—Sallie wants to give her sister the benefit of the doubt. But how long can she ignore the ugly truth behind Leona's actions? 


Together and apart, Uly and Sallie must navigate sibling loyalty and romantic love as the campaign spirals toward a devastating conclusion.

CW: Acts of racism and bigotry, racist language, and gun violence are portrayed in this novel.
About the Author
---
Kwame Ivery was born in Bronx, New York, and raised in East Orange, New Jersey. He received a BA in psychology from Princeton University and an MFA in dramatic writing from New York University's Tisch School of The Arts. He's had a screenplay optioned by Hollywood storyboard artist Karl Shefelman (The Silence of the Lambs, American Gangster). He's a proud high school English teacher with over a hundred teenage students who, on a daily basis, teach him just as many things as he teaches them. He loves lasagna and hates musicals; he thinks contrasts are underrated and symmetry overrated. You can visit Kwame at kwameivery.com or on Twitter @KwameIvery.
Praise For…
---
Praise for The Problem with the Other Side

A Bank Street Best Children's Book of 2022

"By turns hilarious and heartbreaking, The Problem with the Other Side had me hooked from the delightful opening scene . . . Told from two alternating points of view, Kwame Ivery's book features characters whose voices are so clear and real that I felt as if they were sitting right beside me telling me their stories. The romance is deliciously sweet, even as it begins to grow complicated under a close examination of racism, white privilege, and bigotry. A masterful work of humor, heart, and human connection."
—Alyssa Wees, author of The Waking Forest

"Kwame Ivery has written a powerful allegory of American politics that offers way more healing than we deserve but exactly as much healing as we need."
—Preston Norton, author of Neanderthal Opens the Door to the Universe

"There are debuts, and then there are debuts like Kwame Ivery's The Problem with the Other Side—a book that is utterly heart-filling, -breaking, and -reflecting all at once. Sincere, funny, and devastating, Ivery's novel holds a mirror up to America and shows the reader the makings of the nation's true heart: all the ugly, all the bad, and all the good (and all the beauty in between)." 
—Tyler James Smith, author of Unstoppable Moses

"Filled with heart and humor, Uly and Sallie's story is an important one. The Problem with the Other Side tackles first love, high school politics, and how racism is everywhere. In between Uly and Sallie's banter, we explore their relationships: with each other, with their families, and with themselves. Fans of Nicola Yoon and Nic Stone will enjoy this one."
—Rachel Simon, Youth Services Librarian, Newton Free Library (Newton, MA)

"A thought-provoking exploration of the way racism cloaks itself while still empowering its adherents and how quickly it can poison a group if allowed to flourish, so readers will have much to discuss." 
—The Bulletin of the Center for Children's Books

"Knight High School is a microcosm for a variety of issues found in the real world . . . A romance that raises uncomfortable yet very necessary questions, this is an excellent book for discussion and purchase in young adult collections." 
—School Library Journal

"A deep look at the extremes that have cropped up in the United States and shows how they affect teens, high school politics, and day-to-day life. Hand this book to readers ready for a heavy read."
—SLJ's Teen Librarian Toolbox

"With excellent pacing, Ivery explores the impact white supremacy and patriarchal norms have on our lives and the dangers of not holding people accountable . . . A timely exploration of the state of American politics."
—Kirkus Reviews