Mindfulness for Anger Management: Transformative Skills for Overcoming Anger and Managing Powerful Emotions (Paperback)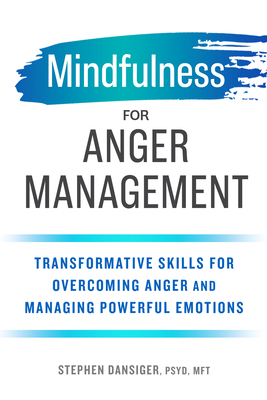 $16.99

Usually arrives at our store within 4-7 days
Description
---
Mindfulness for Anger Management puts mindfulness into action with transformative skills and real strategies for overcoming anger and taking control of powerful emotions.
Mindfulness is more than a philosophy for anger management—it's a daily practice. Transforming wisdom into actionable exercises,
Mindfulness for Anger Management
equips you with concrete skills and strategies to overcome anger with mindfulness.
Dr. Stephen Dansiger, a licensed therapist with 25 years of experience combining evidence-based therapeutic methods and spiritual practices, turns your gaze inward to understand anger triggers and address accompanying thoughts, feelings, and body sensations. With a focus on the real-life areas that anger impacts—home, work, and relationships—the self-reflective exercises and practical tactics in
Mindfulness for Anger Management
allow you to take control of your emotions and live every moment mindfully.
Mindfulness for Anger Management
helps you recycle angry energy, see it for what it is, and allow you to manage anger and other difficult emotions with:
An introduction to anger management that defines different kinds of anger from frustration and annoyance to aggression and rage, and includes self-assessments to measure your personal anger level.
Practical exercises that combine evidence-based emotion regulation techniques with mindfulness skills in self-assessments, checklists, and reflective prompts to equip you to handle anger when it strikes.
Real-world applications that focus on how anger affects life, including work, relationships, and personal well-being.
Anger is a natural component of our emotional experiences, but it can also consume us if left unchecked.
Mindfulness for Anger Management
gives you a skill set and mindset that will change your relationship to anger and empower you to run your own life.
About the Author
---
Dr. STEPHEN DANSIGER is a clinician, writer, and meditation teacher. He has taught mindfulness-based anger management for over 25 years as a trainer, educator, and therapist, working in diverse environments spanning pre-K through universities, corporations, government agencies, and mental health agencies. Besides maintaining a private therapy practice in Los Angeles, he travels internationally, speaking and teaching on mindfulness, anger management, trauma, Buddhist approaches to treating addictions, and clinician and caregiver self-care.
Praise For…
---
"Focused and with clarity, Stephen Dansiger makes the case for how mindfulness practice can provide us with sharpened insight and the tools to help us see our anger as the complex emotion that it is. Instead of being defined by anger and thrown into consequential actions, or fruitlessly trying to repress it, we can learn to manage anger in healthy ways. We develop the ability to respond to anger instead of reacting to it. This is a very good and helpful book."—Sharon Salzberg, author of Lovingkindness and Real Happiness

"Is your mind on fire all of the time? Are you burning down all your relationships with anger? This book will help you get that fire contained through mindfulness. At the very least, you'll learn how, when, and where to spark up your brain appropriately."—Marc Maron, Comic, Actor, Writer and Host of the WTF Podcast

"Anger, like addiction, is often misunderstood and stigmatized. Anger can cause a lot of damage, but it's an important emotion that all humans experience. Dr. Dansiger is a master at explaining why anger should not be ignored and how we can use mindfulness skills and other tools to channel anger into healthy, self-affirming action."—Anna David, NY Times bestselling author of Party Girl

"Mindfulness for Anger Management is for everyone seeking to work with this vital and often misunderstood emotion. Highly readable and infused with practical approaches to mindfulness. This book does not disappoint!"—Jamie Marich, Ph.D., LPCC-S, REAT, RYT-200, co-author of EMDR Therapy & Mindfulness for Trauma Focused Care, author of EMDR Made Simple, Trauma and the Twelve Steps, Trauma Made Simple, and Dancing Mindfulness