She's Unlikeable: And Other Lies That Bring Women Down (Hardcover)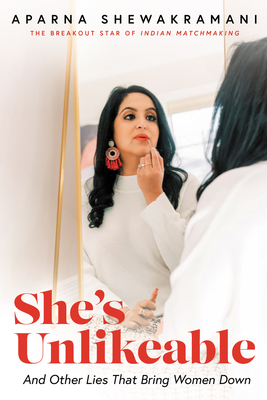 Description
---
Aparna Shewakramani of Indian Matchmaking fame knows who she is and what she wants—and she is not afraid to ask for it

When Aparna Shewakramani appeared on Netflix's hit series, Indian Matchmaking, it soon became clear that Aparna knew what she wanted. But all stories are told through certain lenses—and her story is no exception. Being on a reality show made Aparna feel like a character. Her decisiveness and sense of self-worth led viewers to see her as a very specific archetype: The villain. The woman you love to hate. The unlikeable woman.

It turned around, though, with a single message of support: Be Like Aparna. Soon supporters were in the tens of thousands. Women are tired of seeing other women being vilified simply because they have a voice. In this book, you will learn about the real Aparna Shewakramani.

She bares it all—the good, the bad, and the it-depends-on-how-you-look-at-it. There is her mother's bravery in leaving her marriage, Aparna's diagnosis of an autoimmune disease, and her confession that she too is susceptible to the deep-rooted need to be pretty and likeable. But it is also the story of her entrepreneurial spirit and her success. It is about lessons learned and the strength to be your own woman.

This is a journey to prevent Aparna-the-person from being erased by Aparna-the-character.
 
About the Author
---
Aparna Shewakramani is a lawyer who holds a JD from Vanderbilt Law and a BA from Rice University. The breakout star of Netflix's hit series Indian Matchmaking, Shewakramani became an overnight ambassador for women demanding to be heard—in their love lives, workplaces, and in every space they occupy. She is the founder and owner of the luxury travel company My Golden Balloon. She lives in New York City.
Praise For…
---
"A manifesto by one woman who refused to have others tell her story, She's Unlikeable is a reminder to all of us to live authentically on our own terms. Aparna's generosity of spirit and insightful life hacks makes this book a delightful read!"
—Jess Ekstrom, author of
Chasing the Bright Side: Embrace Optimism, Activate Your Purpose, and Write Your Own Story
"A rallying cry for women's independence and empowerment . . . the book's ending comes too soon." — 
Foreword Reviews"An important read for those who are ready to break free of living life on other people's terms. Who are ready to chart their own course. Who won't let other's criticisms, perceived or real, hold them back. Who want to live more fully. (And who also love a little behind-the-scenes of reality television.)"
—Darrah Brustein, life coach and business strategist
"She's Unlikeable should have been titled She's Relatable. The book gave me goosebumps as I absorbed all the pages over a weekend read that wouldn't let me put this book down. Aparna reflects the many stages of not just an Indian woman, but all women. I loved the genuine vulnerability and sharing of challenging moments where she felt deflated and beat, but reminds us that even in those experiences, we should learn from and ultimately champion and cheerlead each other. This book, just like the author, is authentic and relatable."
—Sonya Singh, author of
Sari, Not Sari 
"Deeply personal at times, laugh out loud funny at other moments, this memoir takes us on Aparna's journey of ups and downs—each life event gifting her with the grit and honesty we rooted for on Indian Matchmaking. Adding to her TV persona, She's Unlikeable introduces us to the multifaceted woman we didn't get to meet on camera and gives us so much more of Aparna to love."
—Olivia Caridi, TV personality and podcast host
"She's Unlikeable is a powerful tribute to tenacious women owning their stories and the undeserved confusion their boldness elicits. Aparna Shewakramani deftly recounts her quest for love that led to an unexpected pivot into fame, her insights on dating (and double) standards, the weight of dual-identity experiences, and intergenerational trauma and strength, all with wit, humor, and refreshingly candid perspective. A must-read for anyone who has been told that they are 'unlikeable' when they are, in fact, an unstoppable force."
—Annika Sharma, author of
Love, Chai, & Other Four-Letter Words
"Pointed, often humorous, and at times refreshingly surprising, She's Unlikeable invites us to sit down with the Aparna we missed out on on Indian Matchmaking—an intelligent, witty, and unabashedly honest woman who tells her tales of resilience in the most disarming way on every page."
—Jessica Batten, TV personality
"A true reading pleasure, She's Unlikeable connects the dots for those striving toward a more authentic existence through Aparna's recounting of her life lessons. This book is perfect for anyone tapping into their own need to live a life outside of set societal milestones—a life full of surprises, immense joy, and exploration of self."
—Natalie Franke, author of
Built to Belong
"I was already in awe of Aparna's resilience after watching her journey unfold on and off the show—her memoir gives me more of a reason to look up to her. Her sharp memory transports me to her hometown in Houston; the way she describes her travels makes me want to catch a flight; the wisdom she aptly shares and the witty comebacks she writes will have you believing anything in life is possible. There's nothing she can't achieve, and she will make you feel the same about your journey, giving the reader a clear purpose as she details her ups and downs beautifully. With more life to live, I am impatiently waiting for the second memoir."
—Trisha Sakhuja-Walia, CEO and cofounder of BrownGirlMagazine.com
"Aparna's honest and unfiltered recounting of her life's journey thus far is like a lifeboat for all us women who are often dismissed as 'unlikeable' for being unapologetic about who we are and what we want. Her story is one of perseverance, resilience, and unwavering self-love that emphasizes the power of reclaiming your own narrative when someone else tries to write it for you." —Richa Moorjani, actor, producer, and activist
"A manifesto by one woman who refused to have others tell her story, She's Unlikable is a reminder to all of us to live authentically on our own terms. Aparna's generosity of spirit and insightful life hacks makes this book a delightful read!"
 —Jess Ekstrom, author of 
Chasing the Bright Side: Embrace Optimism, Activate Your Purpose,
and
Write Your Own Story