God's Plan for Your Marriage: An Exploration of Holy Matrimony from Genesis to the Wedding Feast of the Lamb (Paperback)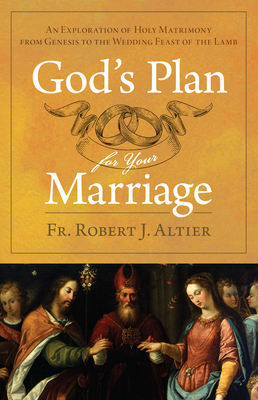 $17.95

Usually arrives at our store within 4-7 days
Description
---
This life is preparation for eternity, and from the beginning, God created marriage to help married couples become saints. Indeed, God has given to married couples the profound gift of being able to fulfill the purpose of their creation through, with, and in each other. Marriage is a foreshadowing of Heaven, and each married couple must work with God if their marriage is to be a foretaste of eternity.
In this thought-provoking and uplifting book, Fr. Robert Altier unpacks the theological significance of the Sacrament of Marriage and brilliantly explains how it has been a part of God 1/2 1/2 1/2s plan from the beginning - and will eventually be fulfilled at the Marriage Banquet of the Lamb in Heaven. Teeming with practical wisdom and clear examples, these pages delve into the surpassing dignity of marriage as a covenant and a sacrament - and a call to holiness.
You will learn how the graces and virtues that are conferred in the Sacrament of Marriage transform the unity of th
About the Author
---
Fr. Robert J. Altier has served in the Archdiocese of Saint Paul and Minneapolis since his ordination in 1989. He has lectured throughout the Twin Cities and is best known for his EWTN series "The Fundamentals of Catholicism" and his devotion to the Eucharist and to the Blessed Virgin Mary.