Meet Me at the Lighthouse: Poems (Paperback)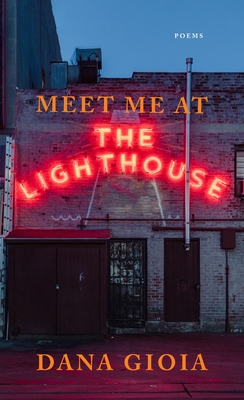 Description
---
A wondrous new collection by Dana Gioia, "one of America's premier poets and critics" (Julia Alvarez).

Dana Gioia has been hailed for decades as a master of traditional lyric forms, whose expansive and accessible poems are offerings of rare poignancy and insight. In Meet Me at the Lighthouse, he invites us back to old Los Angeles, where the shabby nightclub of the title beckons us into its noirish immortality. Elsewhere, he laments the once-vibrant neighborhood where he grew up, now bulldozed, and recalls his working-class family of immigrants. Gioia describes a haunting from his mother on his birthday, Christmas Eve. Another poem remembers his uncle, a US Merchant Marine. And "The Ballad of Jesús Ortiz" tells the story of his great-grandfather, a Mexican vaquero who was shot dead at a tavern in Wyoming during a dispute over a bar tab. "I praise my ancestors, the unkillable poor," Gioia writes. This book is dedicated to their memory.

Including poems, song lyrics, translations, and concluding with an unsettling train ride to the underworld, Meet Me at the Lighthouse is a luminous exploration of nostalgia, mortality, and what makes a life worth living and remembering.
About the Author
---
Dana Gioia is the author of five previous collections, including 99 Poems: New & Selected, winner of the Poets' Prize, and Interrogations at Noon, winner of the American Book Award. He is the former California Poet Laureate.
Praise For…
---
"Dana Gioia's newest book, Meet Me at the Lighthouse, includes several poems that are among the best he has written. . . . [T]he lyrical quality of Gioia's work has never been better. . . . The first and last poems serve as brackets for everything in between, like two hands holding the entirety of lived life and so preserving it."—Fred Dings, World Literature Today

"With perfect tonal and formal control, the poet's voice seems to emanate from somewhere between author and reader, between dream and memory. It's here we find what Gioia calls 'the lash of consciousness.'"—Robert Erickson, The New Criterion

"Gioia's poems are simple, clear, and permanent—exactly what poetry should be."—Andrew Jarvis, New York Journal of Books

"A perfect collection of poems."—Boris Dralyuk

"The former California Poet Laureate demonstrates his expansive range and experience without any notes of pretension. . . . These poems exist in a special sphere."—Claire Scott, The Arkansas International