Don't Let Me Be Lonely: An American Lyric (Paperback)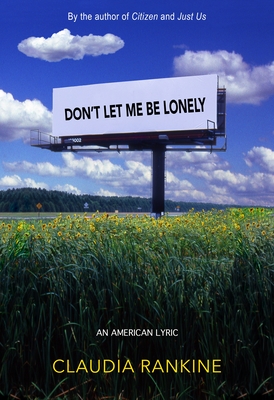 Description
---
A brilliant and unsparing examination of America in the early twenty-first century, Claudia Rankine's Don't Let Me Be Lonely invents a new genre to confront the particular loneliness and rapacious assault on selfhood that our media have inflicted upon our lives. Fusing the lyric, the essay, and the visual, Rankine negotiates the enduring anxieties of medicated depression, race riots, divisive elections, terrorist attacks, and ongoing wars—doom scrolling through the daily news feeds that keep us glued to our screens and that have come to define our age.

First published in 2004, Don't Let Me Be Lonely is a hauntingly prescient work, one that has secured a permanent place in American literature. This new edition is presented in full color with updated visuals and text, including a new introduction by the author, and matches the composition of Rankine's best-selling and award-winning Citizen and Just Us as the first book in her acclaimed American trilogy.

Don't Let Me Be Lonely is a crucial guide to surviving a fractured and fracturing American consciousness—a book of rare and vital honesty, complexity, and presence.
About the Author
---
Claudia Rankine is the author of Citizen: An American Lyric and four previous books, including Don't Let Me Be Lonely: An American Lyric. Her work has appeared recently in the Guardian, the New York Times Book Review, the New York Times Magazine, and the Washington Post. She is a chancellor of the Academy of American Poets, the winner of the 2014 Jackson Poetry Prize, and a contributing editor of Poets & Writers. She received a MacArthur Fellowship in 2016. Rankine is the Frederick Iseman Professor of Poetry at Yale University.