Home Health Guide to Oasis: A Reference for Field Staff, 2022 (Spiral)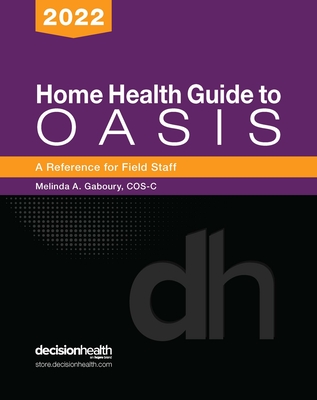 This item is not available.
About the Author
---
Melinda A. Gaboury, COS-C, Chief Executive OfficerMelinda A. Gaboury, with more than 29 years in home care, has over 20 years of executive speaking and educating experience, including extensive day to day interaction with home care and hospice professionals. She routinely conducts Home Care and Hospice Reimbursement Workshops and speaks at state association meetings throughout the country. Melinda has profound experience in Medicare PDGM training, billing, collections, case-mix calculations, chart reviews and due diligence. UPIC, RA, ADR & TPE appeals with all Medicare MACs have become the forefront of Melinda's current impact on the industry. She is currently serving on the NAHC/HHFMA Advisory Board and Work Group and is Treasurer on the Home Care Association of Florida Board of Directors. Melinda is also the author of the Home Health OASIS Guide to OASIS-D1.