Begin and Begin Again: The Bright Optimism of Reinventing Life with Horses (Hardcover)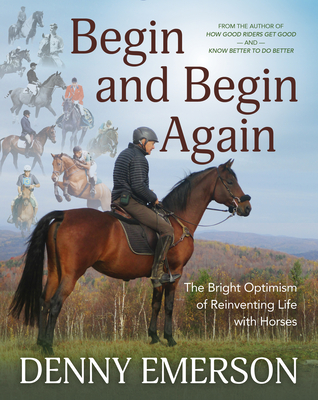 $29.95

Usually arrives at our store within 4-7 days
Description
---
An exciting follow-up from the bestselling author of How Good Riders Get Good and Know Better to Do Better.
We all start somewhere with horses. As a toddler on a pony. As a teenager with friends who ride. As an adult who always loved horses, but life just got in the way...until now.
Some of us start over. We sell our horses to go to school, to have careers or babies (or both). We decide to quit dressage and start reining. We fall off...and get back on.
There are all sorts of beginning places, and they can be for the first time or after a "gap." They can mean you are beginning, or your horse is. They can mean you barely got started, or you started badly. Renowned horseman Denny Emerson knows all about the importance of these beginnings. Through an impressive career in the saddle that spans decades, he has worked with all different breeds, competed at the top international levels of eventing and endurance, lost horses and found new ones, taught young riders and adult amateurs, traded Western tack for English and back again, been injured...only to rehab, climb back in the saddle, and start over.
In his third book, Emerson once again masterfully intertwines his entertaining reflections from a life embedded in the equestrian world with serious philosophical questions faced by the industry today and practical advice honed by his immense experience. Readers will discover:
How to make your beginning with horses easier...and how to make it harder.
How having the right horse versus having the wrong horse can affect a beginning...or mean you should begin again.
The importance of a team (family, friends, trainers, coaches) you trust and rely upon.
Ways to identify how you learn, see, hear, and feel, and how to apply that knowledge with horses.
The need for knowing how far you want to go and how much are you willing to give up to go there.
With inspirational stories of beginning and beginning again from top equestrians, as well as personal reflections from "regular" horse people around the world, these pages promise to inspire a start or a change, and provide a roadmap we all can follow, whatever our ambitions. Emerson reassures us that it doesn't matter where your beginning point is--start where you are. And, even better, there is a do-over button--you just have to decide to push it. This book is for every horse person who continues to dream of something else or something more, and just needs someone to say: "Begin."
About the Author
---
Denny Emerson has ridden thousands of horses over many thousands of miles in all kinds of horse sports. He has been president of the US Eventing Association (USEA) and the Green Mountain Horse Association (GMHA), and a vice-president of the US Equestrian Team (USET). He has been inducted into three Halls of Fame: the USEA Hall of Fame, the Vermont Academy Athletic Hall of Fame, and the Dartmouth College Athletic Hall of Fame. In 2000, he was named "One of the 50 Most Influential Horsemen of the 20th Century" by The Chronicle of the Horse. He is also the author of How Good Riders Get Good and Know Better to Do Better.